Eating healthy. Exercising regularly. Getting enough sleep. Keeping up with our wellness appointments. All of these are important healthy habits that we as family caregivers intend to do.
We know how to provide excellent care for others health but when it comes to our own healthy habits…we may not give ourselves a passing grade. Why? Because staying on top of our own healthy habits feels like a part-time job and adds to the feelings of overwhelm.
Self-care is important so we have the emotional and physical energy to care for others but HOW do we prioritize our health when there are just so many hours in the day?
Adopting or adjusting healthy habits may not be the 100% answer but each small idea will help us make progress and create momentum. Something is better than nothing. Little moves add up.
You get the idea. We are striving for baby steps in the right direction.
Let's break down some of these small healthy practical ideas into the following areas:
Habits that we can ADD or start doing
Habits to avoid or SUBTRACT
Habits that we can slightly tweak by making some SWAPS
Habits we can bundle or BATCH together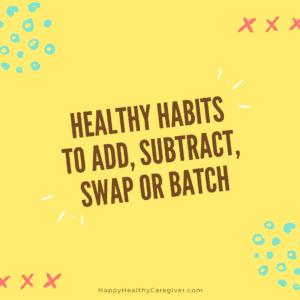 Habits to Add
Making medical appointments is not fun and something I know I tend to put off.
Instead of risking not making the appointments in a timely manner, schedule your next appointment right after you finish your last appointment. If they don't permit scheduling that far in advance, batch all your appointment making into one power hour of scheduling calls.
Smoothies are a quick grab-and-go mini meal that are easy to make. Each smoothie can boost your energy and be packed with nutrients to keep you going. Add a scoop of a grass-fed protein powder into your smoothie. Try adding a smoothie to your breakfast routine to jump start your busy day.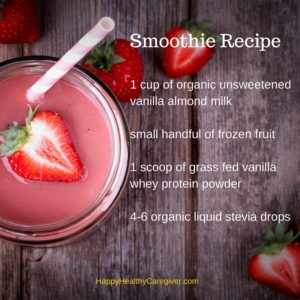 Habits to Subtract
Don't do it. In the morning after your alarm goes off, don't grab your phone and check your email or social media. It's a trap! When you look at your phone first thing in the morning, you are unconsciously saying that your needs are not as important as everyone else's. If you can't resist the urge, park your phone away from your bed (get an old school alarm clock if you need to or have that nifty Google or Amazon device wake you up). Prioritize your own self-care first thing in the morning by meditating, reading, writing, showering or exercising.
You hit a goal. You survived an extra tough day. Time to celebrate…but what are some rewards that feel amazing but don't derail you from your healthy goals? Rewarding with food is not a reward. I struggle with this one, too. Something I continue to work on. Instead, try a cup of hot tea or curl up with a magazine.
Habits to Swap
You're eating the food or doing the activity anyway so why not tweak it just a bit to make it a tad healthier?
For example…you drink coffee daily perhaps with flavored creamers or sugar. Try swapping out the flavored chemical creamer with unsweetened vanilla almond milk. Use organic liquid stevia drops to replace your sugar or sweeteners.
Instead of going out for work lunches and risking making unhealthy choices when you are over hungry. Pack your lunch and healthy snacks right after you finish your dinner the night before. No leftovers? Purchase a lunch when you are headed in to work. Most fast food places sell salads at all hours of the day or you can grab a protein box with a morning cup of Starbucks. Now instead of running out in traffic to get lunch, you can eat your healthy lunch leisurely in a quiet space at work.
Habit to Batch
Weekly meal planning and meal preparation will save you hours during the week and help save your sanity. The dreaded 'what's for dinner' question is less dreadful when you know the answer. On the weeks you can, schedule time weekly to make the meal plan, purchase the food, and prep what you can ahead of time. Keep the menu simple, tasty, and healthy.
Buy two 7 day pill organizers for yourself or 4 of them if you take pills in the morning and at bedtime. This is for your healthy supplements and daily prescriptions. Fill them for multiple weeks at a time and put them where you will see them and take them (e.g. by the coffee pot, by your toothbrush, on your desk at work, etc.).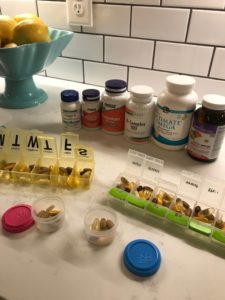 Take Action
Pick one or two habits above you plan to add, subtract, swap or batch. Start this week!
Share the care by sharing this post on Facebook or Twitter.