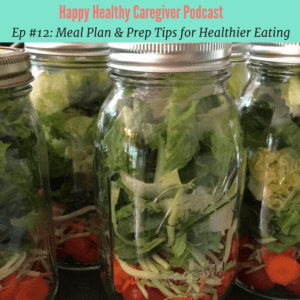 In this episode, host Elizabeth Miller shares ideas and systems that have helped her focus on healthier eating.
Listen to the show: Meal Plan & Prep Tips for Healthier Eating
Words of Encouragement
Each episode starts off with a few words of inspiration or motivation that is pulled from the Happy Healthy Caregiver Jar.
Links & Resources Mentioned
Some of the links on this page are Amazon affiliate links. When you click on a product and choose to purchase it, I receive a small thank you from Amazon which helps reimburse me for my blogging, podcast, & site expenses. There is no additional cost to you.
Stay in touch
Join the Happy Healthy Caregiver Facebook Group and our Facebook Page
Subscribe to the Happy Healthy Caregiver newsletter to stay up to date on the latest posts & events.
Email me with questions or comments about the show.
This week's listener question: Do you have an easy meal that takes less than 20 minutes to prepare? Favorite healthy snack?