I like the benefits meal planning and preparation affords me all week long more than I dislike the two hours it takes to plan the meals, go to the store, and prepare everything up for the week.
Have you tried weekly meal planning and preparation yet?
Why I started meal planning and prep
My trainer often says "great abs are made in the kitchen" meaning it's what we feed our bodies that really gets us closer to our physical health goals. One of my main health goals is to get to 18-20% body fat and I know for certain that this will not happen with exercise alone. I know this because I have tried it for an extended period of time. When I first started with my trainers I had already completed a 3 day walk for breast cancer, a Marine Corps 10K mud run, a 15K Hot Chocolate run, and was training for my first half marathon. I was certain after training for each of these events and completing the actual event, that I would look and feel a certain way after accomplishing these goals. The truth is, I still looked the same and felt like I was capable of feeling better.
Whether you are trying to lose body fat or maintain, good nutrition just feels great overall. I have a specific nutrition plan that I follow at least 80% of the time. In a nutshell, I choose to nourish my body with lean protein, good fats, some fruit and lots of vegetables. I limit grains, dairy, sugar, and alcohol.
So I knew in order to eat more of what I wanted and less of what I didn't want, I needed to plan and prepare my weeks better.  Since I work full-time and provide care for others, the best time to do this was on the weekends.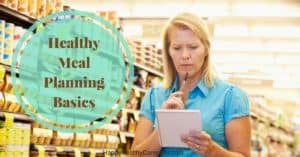 The benefits of meal planning
You save time
You preserve your energy
You save money
You make healthier food choices
You have an answer for one of the most annoying questions a caregiver hears: 'What's for dinner?'
Planning to eat healthy is like any planning…you have to sit down a few minutes and just do it.  I find weekly is the right cadence.  Fruits and vegetables stay fresh for at least the week and we have a really good idea of what family activities, work events, and appointments are happening a week out.
Making a grocery list and going to the store takes time.  And, I don't know about you but I'm tired after a work day and just preparing dinner is enough to manage without also having to decide what we are having and going to the grocery store to buy it.  Do yourself and your health a favor and batch your meal planning to maximize your time and energy.
The weeks I don't do my planning…we make unhealthy choices that aren't getting me closer to my goals.  The fly by the seat of our pants let's just not make a plan doesn't pan out for the Millers.  Those are the nights you'll see us at Moe's, Chickfila, Subway, or Panera.  I can promise you by the time we get there, I'm less likely to make healthy food choices.
The weekly meal planning process
Before you can even start diving into the healthy meal planning and preparation, you may first need to purge the non nourishing foods from your kitchen.  Here's a post I wrote all about purging your environment.
Once a week, ideally on the weekend, plan your healthy meals for the week.
For breakfast and lunches, I rotate a couple of these grab and go options that I shared in a previous post.
For lunch, I usually rely on some protein leftovers from the night before or a store-bought rotisserie chicken cut in quarters and mason jar salads.
My mason jar salads are colorful!  I layer the vegetables in the mason jar and keep the dressing in a container on the side.  I also like to top these with an avocado.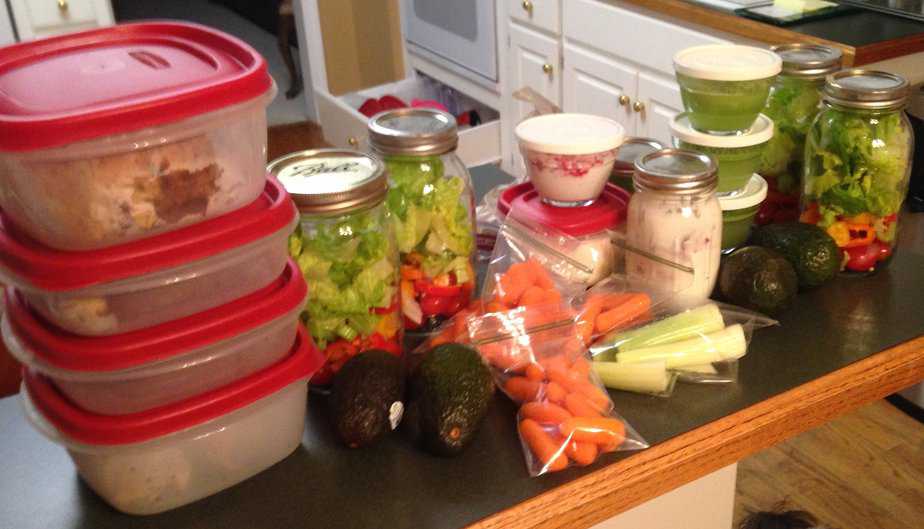 I share my system for the steps I take to meal plan for our dinners as well as a video of the mason jar salad prep in the Happy Healthy Caregiver Community.  If you aren't a member yet and would like to learn more about this private community, click here.
Ask for help
You don't have to do all the meal planing and preparation alone.  Kids are great at bagging up vegetables or putting handfuls of raw nuts in containers and husbands don't usually mind going to the grocery store if they have a list.
Take Action
Purge your pantry and refrigerator and take mental inventory of what you have available to use as a side dish or main entree.
Grab a sheet of paper and plan out your meals for the next 7 days.
There are many healthy snacks, condiments and cooking oils that are a good idea to just keep on hand.  Click here to download the Happy Healthy Caregiver Grocery List.