'We're out of tricks.'  This is the phrase I used when talking to my two out-of-town sisters about the need to find a better living situation for mom…again.  Mom has been in two different assisted living communities in the past year and half, since my dad has passed.  Neither place has been a fit and frankly I don't think any of them will.
Within two weeks of my dad passing away, we moved mom into the first assisted living community after packing up everything in her dream home.  Mom had to not only grieve the loss of her husband, who was also her best friend and primary caretaker, but she had to grieve the loss of her beach front condo and ultimately her independence.  It was a lot for all of us to take on but we knew that mom couldn't remain in Florida, six hours away from any of her family (besides my developmentally disabled brother who also lived with my parents).  Each of us had already exhausted time away from work and our immediate families traveling back and forth over the past 5 months.  We also knew that none of us were in a position to have mom live with us.  Each of us had jobs outside the home except my oldest sister who wanted to take mom in but knew that she had too many pressing potentially life changing family issues to resolve.  On top of this, Jason and I were also providing care to his mom who was declining after being diagnosed with lung cancer three years earlier.  The finest assisted living close by to the majority of family members in Atlanta felt like the best solution.  Here's a post I wrote about why we selected the first community for mom.
Mom's first assisted living community was beautiful and felt like a country club and we loved how it had a mix of residents who could live independently and ones who needed assistance. Mom requires the highest level of assistance because she is diabetic, uses a nebulizer, uses a sleep apnea machine, needs support when showering and dressing, needs help using a blood circulation machine for her edema, has hers leg wrapped and unwrapped each day to keep the swelling down, and requires meals being delivered to her room since her daily LASIK pill which mandates she be in close proximity to her bathroom. Mom also is particular about her environment.  She likes her place tidy (always has) and if her bed isn't promptly made or if there are dishes in the sink or overflowing trash cans, this will spiral her into a bad day as she reminded of basic things that are impossible for her to do now.
While both of our assisted living communities had promised us that they could provide this level of care, the reality is that these communities don't have enough staff to handle each resident's basic care plan and the on-demand needs of the day.
At first we thought it was the community and it partly was.  Mom's first community was seriously understaffed.  We had been through three resident care directors in her 15 month stay and each one promised the family that things would improve.  We held on for several months because we were hopeful things would change.  But, her basic care was not being met.  Mom wasn't getting her showers, care managers weren't responding to her call button, and sometimes she wasn't getting breakfast until 11 am if at all.  We tried sit down meetings with the management team and mom, written communication, and coaching mom on how to be more assertive.
I can't count the number of early morning or late night tearful calls I got from mom letting me know she was buzzing for help and no one was coming.  Recently, mom and I rented the movie Everest.  It hit me when I was leaving mom that night that for me it feels like I'm leaving my sweet mom on Mt. Everest each time I kiss her goodbye.  Several scenes in this movie based on a true story, have the trail guides leaving their hikers who were seriously struggling temporarily to get more oxygen or something.  Before I leave mom, I make sure her lighting is good in her room, her cup is filled with ice, her bathroom is stocked with feminine supplies, her diet ginger ale is within reach, her place is tidy, and she has a snack to nibble on to take her mind off of me leaving her for a few days.  I always say a little prayer when I leave her room that she'll be ok.
Have I mentioned how expensive these communities are?!  Mom's residence plus level of care is the equivalent to purchasing a nice used car each month (not monthly payments – an entire car!) or equivalent to what my family of four spent to go to Italy for 10 days.  Thank God they had a nice nest egg.  My parents didn't have long term care insurance and my dad wasn't a veteran so there are no financial breaks.  It's a lot of money to spend, especially when you feel like you are begging for basic care.
In order to supplement mom's care while we were researching other living options, we ended up hiring a wonderful friend of mine to come into mom's and assist her for a few hours four to five days a week.  While this was helping and relieving me and my brother, it was not a long term sustainable option.  We couldn't afford to pay for the one-on-one help on top of the massive fees the care facility was getting.  The facility did alter the level of care but it barely brought down the overall cost.
Last fall, I conducted a new search for a better assisted living community.  I was concerned that mom's lack of care would only get worse as the holidays approached and I was nervous about heading into cold and flu season.  This time I was armed with reality based questions based on our exact experiences.  [see opt in for questions to ask].  A friend also told me about a private free referral service called A Place For Mom.  I immediately connected with my advisor who had clearly been a caregiver for her mom for many years and could relate to my frustrations and spent time with me over the phone to discuss mom's specific needs.  She reinforced what amenities I needed to look for and she also let me know that my options for mom's level of care needs were going to be limited.  She directed me to three different places that would accommodate mom's level of care and I toured each facility and grilled the staff with my questions.  I felt really good about the place I liked best but was nervous that mom wouldn't find it as shiny and country-club like as her current place.  When we brought mom for the tour, she actually liked it better!  She loved the Victorian look and feel and thought it was 'homey'.
In November, we moved mom in to her new place.  We were all hopeful that things would improve.  Things did improve, but still weren't optimal.  Mom's basic care needs were being met better and she had a beautiful spacious room with lots of natural light.  This new facility had one set of staff that did medication management (med-techs) and another set of staff that assisted with personal care.  They also didn't rotate the entire staff to each resident like the last place so mom and her care team were able to get to know each other better.  Another huge advantage is that this facility had on-site physical and occupational therapists.  Her meals were being delivered consistently.  The ad hoc care was still a problem though.  Response time to her call button was still unacceptable and we started our former routine of coaching mom to be more assertive, written correspondence with the staff, and sit down meetings to review mom's frustrations.  I was still getting tearful calls that 'no one was coming'.
So back to the statement 'I'm out of tricks' which really meant 'we're out of options in Atlanta'.  We've exhausted our viable assisted living options and mom's health is not improving.  Some would say her health is too much for an assisted living community and too little for a nursing home.  She's in this limbo spot.  Now that my older sister's situation has changed, mom is going to stay with Susie.  The upside of this option for my mom is that she'll have daily contact with family which will only improve her level of personal care and hopefully her depression.  My sister is a saint!  She is preparing to take on a ton of additional physical and emotional responsibilities and planning to make the best of it.  My sister is a true nurturer and has a boat load of patience and she is in a stage of her life where she wants her family around her.  She has been caretaking for my development disabled brother since last fall when his health issues starting to become a heavy concern.  My brother doesn't require much physical assistance but does require consistent guidance with his social skills and in making good health choices.  Mom is looking forward to being able to see two of her six children on a daily basis.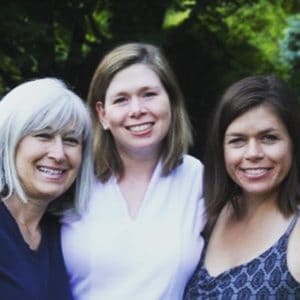 The huge downside of this option is that mom will be in Pennsylvania which is a long way from Georgia.  My sisters assure me that I've done my turn well and that we need to 'share the care'.  Now it'll be my turn to be the out-of-state caregiver who helps with the paperwork and offers a counseling ear to the in-state caregiver.
I'm certainly going to miss my mom.  I'll miss the indoor picnics, the Skipbo games, the election debate recaps, the stories about the residents, and the fun movie nights.  What I'm not going to miss is the tearful voicemails and calls and feelings like I'm leaving her to fend for herself on Mt. Everest.  I'm excited for mom that she will now have the ultimate care – the kind of unconditional love care that only family can truly provide.