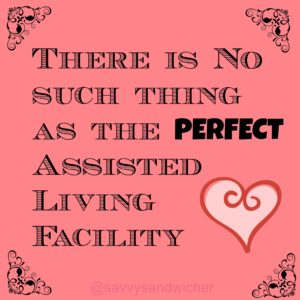 First, let me start by saying that there is no perfect assisted living.  Afterall, I don't know of one person who has  chosen to live their twilight years in an assisted living. The phrase assisted living simply means you have lost partial control of your daily activities.
When we started looking for an assisted living last summer, my dad was in the hospital and we were focused on a place for a couple.  Frankly, we didn't know the timing or the details, but we were confident that my dad was no longer going to be able to help care for my mom and my brother and that they needed to be closer to family.
Once my dad had passed, we had to change a focus to just a place for mom.
Some places were immediately eliminated because they were just independent facilities or they were continuing care facilities.  A Continuing Care Retirement Communities (CCRCs) is a facility that supports  independent living, assisted living, and nursing care options in one location, so seniors can stay in the same complex as their needs change over time. These facilities usually don't accept people that are already at an advanced level of care.  Sometimes there is the cost of buying a a unit and paying  monthly fees that increase as you require higher levels of care.
Once we had our shorter list of potential communities, we chose mom's new home for the below 10 reasons.
1. Best Initial Impression – Call it gut feel or initial instinct but it's just the overall feeling my brother, husband and I had when we visited on separate occasions.  The facility was clean and had a country club feel instead of a depressing hospital vibe.
2. We stopped by unannounced – This wasn't intentional but ended up being a good idea as I had additional questions and got to visit with some of the residents and ask them questions.  I also met and watched some of the caregivers interact with residents.
3. Location – I had 2 (now 3) brothers in the area.  We wanted something that was in close proximity to where we lived.  Mom's new place is equidistant to our homes.
4. She looked like the people who lived there – We could imagine her socializing with the other residents and having common interests.
5. They had a  Registered Nurse on staff – My mom has diabetes and lots of health issues so this was a must.
6.  Abundant wellness opportunities – It was important to us that mom had wellness facilities available to her so that she could be motivated to continue to improve her health.  The facility we chose had exercise classes, equipment, an onsite trainer, and a salt water pool.  Our thought at the time was that mom could embrace all of this and work her way back to one of the independent living apartments in the same community.
7. The food was restaurant quality – On our family visit, we ate in the dining room after our tour.  Mom loves food and would be eating 3 square meals a day in the community – it needed to be tasty.
8. The apartment was functional, clean and bright – We visited one furnished apartment and one that was move in ready.  Seeing a furnished apartment gave us an idea of how much furniture would fit in the space.  Seeing the available apartments was important as we needed to know how far it was from the elevator, parking, dining facilities, etc. since mom cannot walk long distances with her walker.
9. They had good answers to all our questions – We had mom's requests that we needed to validate and of course there were lots of questions centered around the level of care options and fees that we needed explained.
10. Ultimately, we answered 'yes' to the question 'Would you live here if you had to?'.  The three of us agreed that if we had to live in assisted living, we would live here.
While it hasn't been an easy transition and we still have several kinks to work out, we still feel like we have chosen the best available facility.