Note: Before we visited Paris, we enjoyed four days in Barcelona, Spain. Click here if you haven't read about the first portion of our European trip.
Day 1: Rue Cler, Orsay Museum, Rodin Museum, Seine River Cruise
Our deal from Travelzoo.com (through Tripmasters) included our flight from Barcelona to Paris on Wednesday morning. Our home away from home for the next four nights in Paris was Hotel du Cadran, right off Rue Cler in the 7th arrondissement since it was so convenient to bakeries, wine shops, cheese shops, cafe's, etc. Rue Cler is one of Rick Steve's favorite market streets and I can see why. It's everything we wanted to see on a Parisian cobblestone street – boisterous cafe's, floral booths, Parisians walking their dogs, and access to all the specialty food and drink shops. A great street for us as tourists too since we were near a metro spot, grocery store, and plenty of places to eat.
We dumped our luggage with the hotel and grabbed a bite at a place they recommended nearby (Cafe Roussilon). After the kids successfully got us around Barcelona with their Spanish skills, it was time for me to dust off my French skills I hadn't used in over 27 years! I was rusty at first but remembered more than I expected.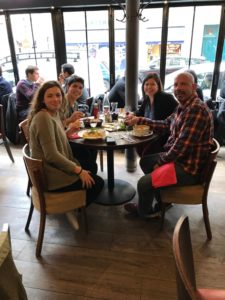 After energizing ourselves with plenty of bread and cheese, we walked to the Musee d'Orsay to see the Impressionism exhibits of Monet, Cezanne, Renoir, and Van Gogh. The Orsay has an amazing collection of some of my favorite artists and paintings under one roof. The building itself is also beautiful as it was constructed as a train station for the 1900 World's Fair.
One of the great benefits about most of the museums in Paris is people under the age of 18 are free. Jason and I just had to purchase our 2 day museum passes right outside the Orsay. This meant museums were going to be front loaded on our Paris trip since the 2 day ticker starts upon entry of our first museum. So after seeing Van Gogh's self portrait, we headed straight to the Rodin museum to see the Thinker statue.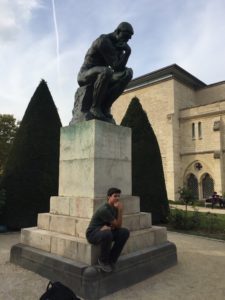 One of my mom's favorite things when we traveled to Paris in 1990 was taking the one hour cruise up and down the Seine. She loved this boat ride so much we did it again on the same trip. After our twilight cruise, we all agreed it was also a highlight of our trip.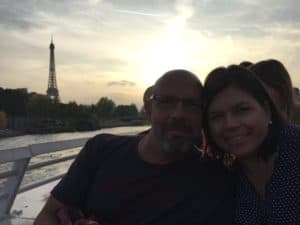 We saw the Louvre, Orsay, Eiffel Tower, Notre Dame, Pont Neuf bridge while cruising down the Seine. We also saw Parisians along the side biking, picnicking and smooching. After we exited the Bateux Mouche cruiser, we got to see the top of the hour twinkling lights on the Eiffel Tower. Very cool!
We ate dinner at Le Bosquet, a cafe our hotel concierge recommended, where the kids learned from our waitress what 'voulez vous coucher avec moi ce soir?' meant and tried escargot for the second time in a month (the first was at grandpa's 75th bday dinner). We also sat next to a young couple from Ohio who we later ran into at Monet's Garden.
Day 2: Arc de Triomphe, Eiffel Tower, Notre Dame Cathedral & the Louvre
The Museum Pass included a visit to the top of the Arc de Triomphe so we made this our first stop on day two. The view from the top of the Arc was a wonderful way to get our general bearings of the city. We took in the Champs Elysees, the Eiffel Tower and spotted Sacre Coeur off in the distance.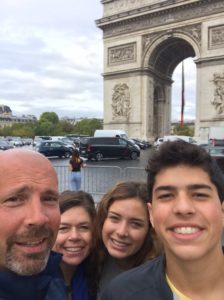 What we still didn't understand even after seeing it is how Parisians drive around the monument where 12 major streets intersect into the largest roundabout called the 'Etoile' or star. Thank goodness we just had to take the underpasses to get to the monument and tomb of the unknown soldier.
From one big monument we headed to another – the Eiffel Tower. Sadly, I waited too long to book the tickets so we didn't get tickets to the 3rd level but did get tickets to the 2nd level (which was frankly high enough for me). We rode the lift up and decided to take the approximately 600 stairs down and stop off at the 1st level to see the history about the monument.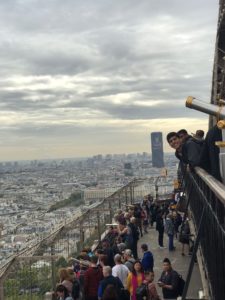 Afterward, we walked nearby to a Creperie for lunch which looked to be very popular with the locals called Crêperie Framboise. We first sat outside but as soon as it started sprinkling our waiter found us a table indoors. After enjoying our scrumptious crepes, we were still hungry so split a couple baguettes just before hopping on the metro to visit the Notre Dame Cathedral.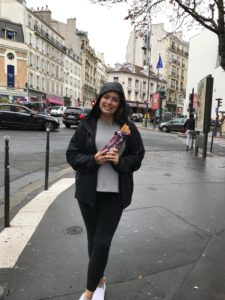 We didn't' have tickets to get to the top so only saw the inside and then we went behind the Cathedral to visit the complimentary Deportation Memorial which honors the more than 200,000 French who were deported to Nazi concentration camps during WWII.
We followed most of Rick Steve's historic Paris walking tour of this area. One unexpected highlight of the tour was the Shakespeare & Company bookstore. As a book lover and writer, it was a happy destination. I could spend a day in this shop reflecting on all the amazing writers who spent hours there in the writing alcoves and taking in the creative atmosphere where musicians can play on the second level and a cat is napping peacefully nearby.
We had to squeeze in one more museum before or two day pass expired, so we did the quickest run through of the Louvre – really just to hit three highlights…Mona Lisa, Winged Victory, and Venus de Milo. We all agreed this museum is way to big to digest and amazing stuff just gets lost in the mass of it all.
After we helped close the Louvre down, we headed back to our hotel area to dine at the other recommended restaurant from our hotel concierge.
Day 3: Versailles and Montmartre
Our hotel included breakfast which mainly consisted of bread, pastries, cheese, meats, and coffee. We ate breakfast at our hotel each day because the cost for dining out was considerably more than in Barcelona, plus it saved us time.
It was easy to get to Versailles. We followed Rick Steve's advice and just went to the information desk at the metro and told them we wanted to go. From the train station we walked to the palace and even though I had advance tickets there was still a fairly long line for security.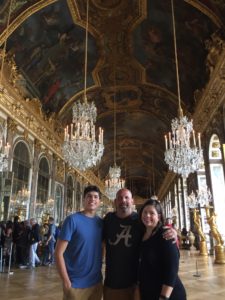 The palace was crowded with many tours and France was experiencing unseasonably warm weather so it was extra hot inside the palace. We walked through at our own pace and learned about Louis XIV, V, VI, and Marie Antoinette and imagined what it would have been like to attend a royal party back in the late 1600's and early 1700's. The palace is decadent and impressive with all it's gold but in my opinion the gardens are the real gem.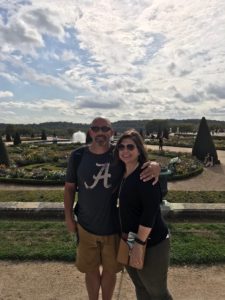 Our pre-purchased tickets didn't include the gardens so originally we opted to walk around Versailles to head toward a cafe on the canal. Easier said than done. While we got to see some of the village and walk along some beautiful paths…we regretted not taking the direct path through the gardens. We eventually got to our cafe (La Flottille) along the canal and lingered there for a while.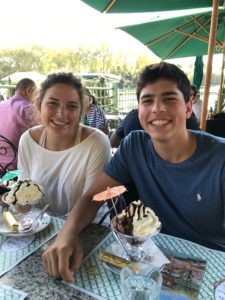 Afterward, we opted to buy the tickets for the gardens and check it out based on a recommendation from an English tour guide.
After returning to Paris, we headed to Montmartre so we could get a taste of where the Parisian artists gravitate. Tourists can't go to the village of Montmartre without first seeing the Basilica of the Sacre-Coeur.
Then, Natalie and I lapped at least three times around the Place du Tertre (the square where all the artists are painting and drawing caricatures) while the boys were sipping on beverages at an adjacent cafe. We wanted to take home a piece of art and settled on a small brightly colored oil painting of the Eiffel Tower which was completely dry enough for travel.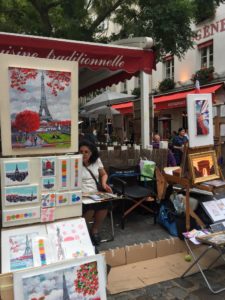 I had seen the 'J'taime Wall' or 'le mur des je t'aime' on Instagram when researching our trip so we wound around some back streets to find this urban art just off the Place des Abbesses. Amazing to see how many languages one can say 'i love you' in.
After snapping a few more photos, Jason found us our best dinner spot in Paris – La Cave Gourmande on Rue de Martyrs. The waiter highlighted what they were best known for – beef bourguignon. Three out of four of us had this and were not disappointed. I will be seeking out this restaurant next time to enjoy this same meal all over again.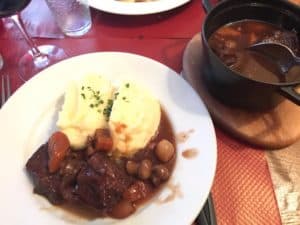 After dinner, we called it a night. No 'Pig Alley' stroll or cabarets on this trip. Guess we'll have to go back!
Day 4: Monet's Garden in Giverny
I wasn't sure we could pull off another day trip with only having four days in Paris but we did it. Everyone was excited to see Monet's garden, perhaps because I had talked about how it was a highlight of my 1990 France trip. Back then we had a van to get to this small town in Normandy.
This time, it was more complicated. We had to take a metro to the train station, buy train tickets to Vernon and then catch a connecting bus to Giverny. The trains and buses only left a handful of times in the day and knowing our exact return time saved us money so we knew we'd only have a few hours there and the transportation tickets were expensive. Was the hassle and expense worth it? It definitely was.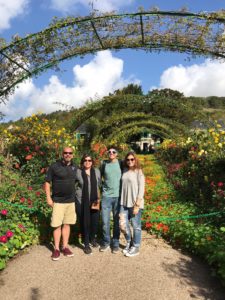 Natalie was our official photographer (we were already over 1,500 pictures of our trip!) so we wouldn't have duplicate photos in the shared iCloud folder. She embraced her role and was willing to take our suggestions on what angles to snap. Our weather was perfect – still unseasonably warm for this time of year. There was much more in bloom than we expected for late September, even the flowers on the lily pads were in bloom.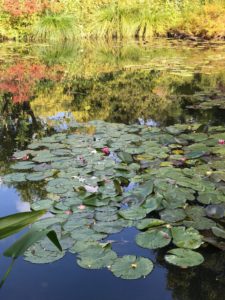 Monet's garden is breathtaking and enchanting to see in person. Every direction we turned we saw a Claude Monet painting come to life. We also toured his pink farm home were there are many replicas of his paintings and his collection of Japanese prints.
At home, we have a large wall above our family room couch reserved for one of my sister Susie's commissioned oil paintings. Throughout our trip we took photos of cute alley ways, European window boxes, bustling cafe's, and now Monet's Garden in hopes of finding a perfect inspiration photo for her to paint and capture our trip. We decided there is just too much beauty to pick from so we plan to share the photos with her and have her select the one which speaks to her brush and palette.
After returning to Paris we did some shopping in the Saint Lazare train station and also on the Champs d'Elysees. Sadly, we never did find a homecoming dress for Natalie but we did add an item or two to our personal wardrobes.
Le Tribeca, near our hotel, served us our last amazing Parisian dinner. We wrapped up our trip by enjoying pastries and wine in our room and…by playing Spades.
General Travel Tips for Paris
Get your Euros from a ATM machine at your destination versus cashier counters at the airport.
When asked if you want to have your credit or debit charges in Euros or USD, choose Euros for a better exchange rate.
Use the safes in the hotel to store you passports and other valuables.
Bring a corkscrew from home and buy wine, meat, cheese, and bread to have picnics to save a few dollars.
Bring a deck of cards – we played Spades on train rides, in our hotel at night, and in cafes to give our feet a rest.
Purchase an international data plan from your phone provider but keep your phone on airplane mode when not on WiFi or actively using your phone. Use WiFi in the hotel or restaurants to get directions, options to eat, etc. Snap screenshots in case you can't get internet connection while site seeing.
Have your children bring student identification or copy of something official to prove their age. Almost all museums in France were free for kids 18 and under. For adults, we purchased the 'Museum Pass' one time which allowed us to get in to most attractions.
Buy the carnet from a metro information desk to avoid having to wait to use the machines every time.
Purchase tickets online way ahead of time for the Eiffel Tower in Paris.
It's tempting to want to look fashionable in Paris but opt for the comfortable walking shoes. My casual dark gray Saucony's were my best friend. Some days we logged 20,000 steps on our FitBits!
Small travel keepsakes from Paris: Christmas ornaments, Parisian decks of cards and Laduree macaroons
We aren't an 'audio guide' or 'formal tour' kind of family which allows us to move at our own pace and frankly we pack more into our days this way. Based on Rick Steve's estimates, I'd say we spent about 1/2 the amount of time he allots for each attraction.