This year, Natalie is a high school senior and Jacob is a sophomore. We recognize that our family vacations with just the four of us will be few and far between. We suspect our kids will get internships and jobs, fall in love, and may have different ideas on how to spend their breaks in years to come.
So we maximized the kids fall September break this year by heading to Europe. We found the trip through a Top 20 weekly deal on Travelzoo.com and booked it through Tripmasters a few months back. We watched for the deals…and a trip for 4 nights in Barcelona, Spain and 4 nights in Paris, France was the one for us!
Natalie is taking Spanish 7 and Jacob is in Spanish 4. They have been learning about the Spanish language and culture for years and were excited about experiencing Spain. During my post-college backpacking days I visited Barcelona with my girlfriends but didn't see many of the traditional attractions. I had also been to Paris two times before but it had been over 20 years! I couldn't wait to explore both of these cities with my family.
Based on past experiences, I know my memory will fail me on the details of what we did, where we stayed and where we dined. I wrote these posts to share with family and friends who want to hear about our trip, to enjoy as a family keepsake and as a resource for future travelers who are planning an excursion to either of these cities.
Day 1: Las Ramblas, Barceloneta Beach, Montjuic
We landed early Saturday morning (so grateful for direct flights from Atlanta to Europe!) and took a cab to our Sercotel Amister Art Hotel in the L'Eixample district of Barcelona. The hotel was great and not too far from a metro stop and there were some restaurants nearby.
However, if we return to Barcelona again we would probably stay in the El Born or Gothic area where there are more attractions and restaurants within walking distance. Since it was so early in the day, we couldn't access our rooms. So, we freshened up and asked the hotel to store our bags.
Rick Steves was our main resource along with some notes and recommendations from some friends (thanks Sue, Joy & Dustin!). We didn't book any tours on our arrival days since you just never know about travel delays. It was looking to be a beautiful day so we opted to head toward the Barceloneta beach by way of the Ramblas.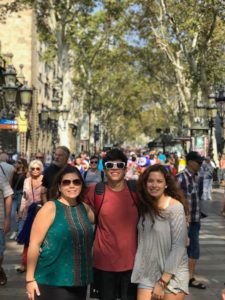 Starting from Place du Catalunya, we strolled down the Ramblas toward the beach and the Columbus statue. Not too far from the Christopher Columbus monument we found a bike rental shop and requested bike locks since we knew we'd like to stop for lunch. We quickly needed to gain our confidence on these bikes to navigate to the safer bike friendly paths along the beach.
Tapas sounded perfect so we decided to try a place called Perikete along Barceloneta beach. Afterward, we did some perusing of the sidewalk kiosks and vendors who were selling tapestries, soccer jerseys, and Barcelona trinkets.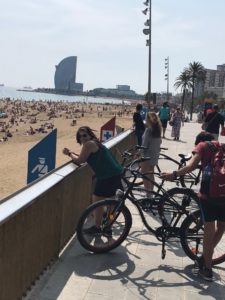 After returning our bikes, a taxi dropped us at the top of Montjuic (stands for Jewish Mountain) but not before Jason dropped his sleepy head on the taxi driver's shoulder during the ride. Jason and Jacob have a gift for capturing some zzzz's in cab rides, metros, and train rides.
From the top of Montjuic, we enjoyed some great views of the Mediterranean and Barcelona. We mostly walked around and saw many families enjoying the activities of La Merce 2017 (a weekend festival with events all over Barcelona). We opted to not tour the inside of the 17th century castle.
The original thought was to try and stay up on Montjuic until the water fountain show at 9 pm but spending the evening there clearly wasn't going to happen for us. We were slowing down at this point and decided to take the cable car down the mountain.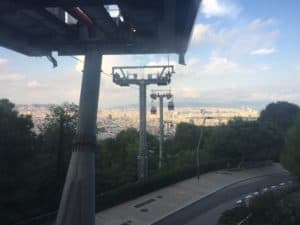 A bit nerve wracking for me with not loving being suspended up high but rationalized the safety of it enough to take in some of the aerial views and see La Sagrada Familia in the distance.
We spent more time on around the Ramblas after Montjuic. Tons of people. We had been warned by many back at home of pick pocketers and I'm happy to say we never had anything stolen during our trip.
We enjoyed some way overpriced beverages on the Ramblas while people watching and stumbled upon the Duck Store which has every themed rubber duck imaginable – including one of Donald Trump.
Later, we ate dinner near our hotel and struggled a bit with the Catalan menu.
Day 2: Park Guell, Basilica Santa Maria Del Pi, FC Barcelona/Camp Nou
Since we went to bed early the night before, getting up to make our 8:30 am Park Guell reservation was doable. We took the metro there and grabbed some croissants along the way. Getting to the park early helped us beat some of the tour groups.
It's quite an incline workout to get there from the metro stop and Jacob decided to make it even more difficult by sprinting up the hill (he wanted to get his required cross country workouts in during our trip). The incline workout was worth the prize of the great views!
Park Guell was one of Catalan architect Antoni Gaudi's masterpieces and probably my favorite thing we did in Barcelona. He designed this with natural elements and capitalized on the amazing views of Barcelona. I love the mosaics and the whimsical buildings.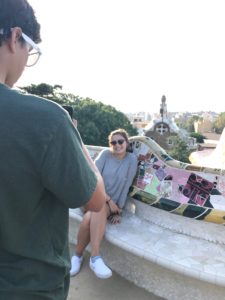 From about 11 to 1 on Sundays, there was traditional Sardana dancing in front of the Cathedral so we headed to the Gothic area. Funny story: we thought we bought tickets to tour the Cathedral and it wasn't until we turned a corner and saw the actual Cathedral that we realized we bought tickets to tour the Santa Maria Del Pi Basilica.
We ate some 'bikini' sandwiches while watching the dancing in front of the real Cathedral and then tried to get our money back from Basilica. 'No can do' she said but assured us we wouldn't regret the tour we accidentally purchased. We truly didn't.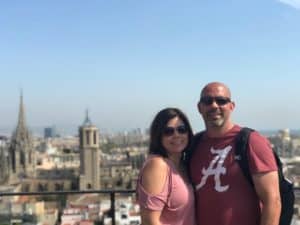 The view from the top of the Basilica bell tower was amazing (and I'm not talking about the rooftop topless sun bather). If hundreds of skinny spiral steps up and down a bell tower are not your thing – skip this tour! I don't love them but once you are up there…you have to get down. This twist in plans reminded us how sometimes travel mistakes are blessings in disguise.
We never did make it into the inside of the Cathedral. I guess we'll just have to return to Barcelona someday.
We had 3:30 tickets to hit Jacob's request to tour the FC Barcelona/Camp Nou stadium (FC = Football Club) and enjoyed some snacks right next to the stadium at Tapas 24. We also rested our feet and played some Spades with the playing cards we bought at Park Guell.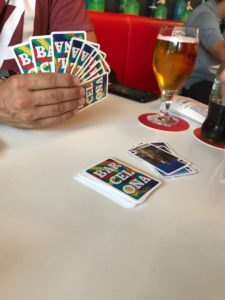 Seeing this soccer stadium was the next best thing to actually going to a game. We considered tickets for a game in Paris but couldn't justify the $200 per ticket price! How do locals afford to go to these games?! We did watch a few soccer games during our trip in various bars and restaurants (I love how they pull televisions out into the sidewalk cafe spaces).
The tour for the FC stadium takes you through their history, trophy room, locker room, press room, and onto the field. I don't know a lick about European soccer and it was still interesting fan experience for me.
Natalie wanted to see if she could buy her Homecoming dance dress on our trip. We tried to do some shopping but everything was closed near Placa de Catalunya. So while Jacob and Jason were resting their feet at a bar, we squeezed in an outdoor visit to one of Gaudi's apartment buildings – Casa Batllo nearby. My favorite thing about this impromptu visit was seeing the artists outside with their sketch pads and mini watercolor palettes painting the facade.
Just a few blocks away, we found a place called Belushi's known for showing American football games. We decided to eat dinner there and watch the Falcons vs. Lions game. Jason had to work with the staff to get his game on one of the screens. There were fans from other teams hoping to see their Steelers, Patriots, etc.
I barely watched the game. Instead, I was researching which spot we were going to go to for our 'let's get out of the city' day trip the next day. I do know the Falcons won.
Day 3: Day trip to Tarragona
I'm sure there wasn't a bad choice for our day trip option but knowing my family's interests I selected Tarragona because it had roman ruins, great views, their own version of the Ramblas, and a walled old city. We bought train tickets and settled into four seats with a little table and played Spades along the way.
Tarragona was beautiful. Jason and i both said we could live there for a summer later in life. Tarragona was the perfect size town. It had plenty for us to do in a day but no real pressure to see everything.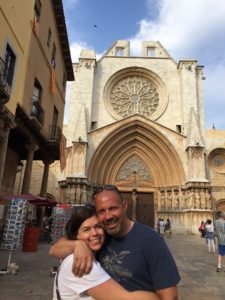 We saw the ruins, captured the views, and on a whim Jacob decided to get his hair cut there! Natalie sat with him while they waited while Jason and I enjoyed people watching from the cafe next door. Cafe sitting never gets old. After Jacob's haircut, we were all starving but it was 'siesta time' for many restaurants. Instead, we found the local market and purchased wine, cheese, meats, bread, olive oil and dessert from several different vendors and had a picnic.
From there we ventured into the old walled city.
The train ride home was memorable. The train was packed with evening commuters. Jason and Jacob stood in the aisle for the one hour return trip. Definitely not pleasurable after their legs were fatigued from our day of walking.
Back in Barcelona, we enjoyed the most memorable, tasty, and expensive meal of our Spanish visit. Our friendly cab driver frequented Restaurante Salamanca in Barceloneta beach and when we arrived he jumped out of the cab to let them know to take care of us.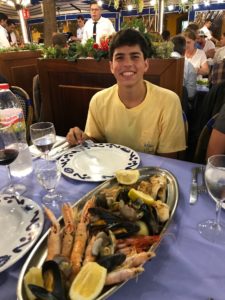 We feasted on paella seafood dishes and enjoyed a few complimentary appetizers and aperitifs. Jason and I were entertainment for the kids that night as we may have been slightly over-served.
Day 4: Sagrada Familia, Chocolate Museum, Picasso Museum and Bogatell beach
On our last day, we got to visit the inside Gaudi's infamous Sagrada Famila. We had seen it many times from a distance but today was the day for our scheduled tour up the Nativity facade tower. This unfinished mammoth Roman Catholic church was started back in 1882 and has tons of symbolism and unique qualities. It's a must see in Barcelona.
By chance, we flew over with another local family (the Rosellos) and ran into them after our tour! It was fun to catch up on what both families had been doing in Barcelona.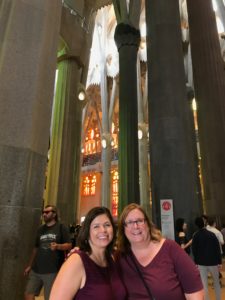 The Chocolate Museum (Museu de la Xocolata) is fun if you have an extra hour. The museum tickets we bought when we arrived were chocolate bars with bar codes. We meandered through the small museum to see many sculptures made out of chocolate – everything from mini replicas of La Sagrada Familia to a Smurf village. Of course no visit is complete without sampling some chocolate so we enjoyed some bon bons and hot chocolate…while playing Spades, of course.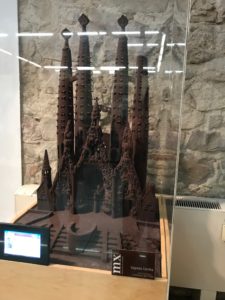 My daughter, Natalie, was excited to visit the Picasso Museum. She loves Picasso's 'blue period' and could tell us all about one of the main paintings we saw there 'Los Meninas'. Her enthusiasm made me enjoy the visit. We got a sense of Picasso's early work and his graduation to 'cubism'.
After the museum tour, we realized we couldn't leave Barcelona without experiencing some churros and chocolate so we found a cute WiFi spot nearby in the Gothic Neighborhood and played Spades while giving our feet a rest. We loved the Gothic area. I think when we return to Barcelona next time, we'll opt to stay in this area.
For our last evening in Barcelona, we decided to return to the beach to try and catch the sunset and have a casual dinner. This time we went to the Bogatell beach and sipped on some beverages while playing Spades (are you catching a theme here?) and then walked up to a nearby restaurant called Xiringuito Escribà where we enjoyed more seafood and paella.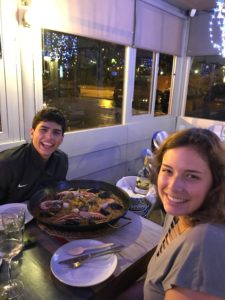 During dinner, we discussed our favorite parts ofBarcelona and confirmed what we wanted to do during part 2 of our vacation in Paris.
Click here to read on about our 4 days in Paris.
General Travel Tips for Barcelona
Get your Euros from a ATM machine at your destination versus cashier counters at the airport.
When asked if you want to have your credit or debit charges in Euros or USD, choose Euros for a better exchange rate.
Use the safe in the hotel to store you passports and other valuables.
Bring a corkscrew from home and buy wine, meat, cheese, and bread to have picnics to save a few dollars.
Bring a deck of cards – we played Spades on train rides, in our hotel at night, and in cafes to give our feet a rest.
Purchase an international data plan from your phone provider but keep your phone on airplane mode when not on WiFi or actively using your phone. Use WiFi in the hotel or restaurants to get directions, options to eat, etc. Snap screenshots in case you can't get internet connection while site seeing.
Learn the metro system and ask for the T10 at a metro information desk to avoid having to wait to use the machines every time.
Purchase tickets online ahead of time in interested in seeing: La Sagrada Familia, Park Guell, FC Barcelona, and the Picasso Museum.
It's tempting to want to look fashionable but opt for the comfortable walking shoes. My casual dark gray Saucony's took me to all of these locations. Some days we logged 20,000 steps on our FitBits!
Souvenirs we like – Christmas ornaments and playing cards are our inexpensive and small keepsake of choice.
We aren't an 'audio guide' or 'formal tour' kind of family which allows us to move at our own pace and frankly we pack more into our days this way. Based on Rick Steve's estimates, I'd say we spent about 1/2 the amount of time he alloted for each attraction.