Just fishin'
Have you heard the Trace Adkin's song 'Just Fishin'?  Here's one verse and the chorus:
I love the story this song tells the listener.  It's about a dad spending quality time with his daughter.  She's excited to go fishing but he is older and wiser and knows this experience is so much more than fishing.  The video is really sweet.
Travel sports
Both of my teenagers are in travel sports.  My 13 year old son plays travel baseball and my daughter plays for a sand volleyball club.  With my husband and I both working full time and the extra family responsibilities I have with my mom, life is B U S Y.  I have to confess that I miss weekends at home just hanging out.  When Monday quickly surfaces, it's tough to face a new work week after spending a weekend away.  We sacrifice the productivity of getting stuff done around the house and we feel like we had too little rest and relaxation.  Travel sports are also expensive!  I think we probably bought a small car this year between our two kids and their sporting equipment, club fees, and travel expenses.  But rather than go on and on about the negative stuff, I wanted to share a huge positive revelation I had this past weekend about travel sports.
Sand volleyball tournament
This past normal length weekend my 15 year old daughter and I spent almost 14 hours in the car round trip driving from Georgia to North Carolina!  We left on a Friday afternoon, checked into our sleazy Quality Inn motel, dined at a local seafood restaurant and quickly scurried into a Trader Joe's 10 minutes before closing to do a supermarket sweep of healthy snacks. On Saturday, we rose at the crack of dawn where I took great pleasure in watching Natalie enjoy the best perk of our motel – the do-it-yourself Belgium waffle maker.  Natalie played volleyball in the 90 degree heat for over six hours while I spectated and reminded her to stay hydrated and reapply sunscreen.  She and her tournament partner played well together and we made plans with her partner and her mom to see the ocean since we were so close to it and had come so far.
We went to the beach for a bit and enjoyed the late afternoon sun.  The girls took a quick nap while partner mom and I strolled and chatted.  After, we snapped lots of pictures of the sunset and the girls posing on the lifeguard chair.  We swapped stories about school and travel over a well-deserved seafood dinner and then crashed back in our motel room.  Natalie and I rose early Sunday, fueled up our bodies and the car, and drove the seven hours back to Georgia with a quick stop for lunch and Starbucks on the way home.  It was a whirlwind weekend.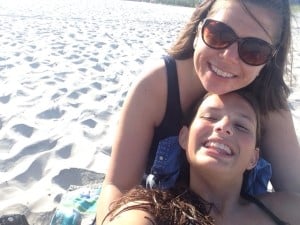 A positive revelation
I do some of my best thinking and reflecting in the car.  While I was driving, I experienced an overwhelming sense of gratitude for this special one-on-one time with my daughter.  During this brief weekend we shared 6 meals together – five of them with just the two of us.  We covered all kinds of topics from her Driver's Ed class that week, to her friends, to gift ideas for Father's Day, to volleyball, things we wanted to do and see this summer, and so much more.  In the car, we fought over whose playlist to listen to, caught up with some relatives over the phone, discussed which southern colleges we may want to visit, and I got some lecturing on my lack of blinker use and some education on what the signs were officially called.
Father and Son
While Natalie and I were traveling over the weekend, my son and husband were having some bonding time at home.  Jacob helped his dad pick out a new lawn mower and learned how to mow the lawn to earn some extra cash.  They also went to dinner and a movie and went tubing with some neighbors and shared several bachelor style meals together.  Jacob didn't have a tournament this past weekend but there have been many weekends where Jason and Jacob have their concentrated drive and 1-on-1 time together over a busy tournament weekend.
We're going to miss this
I realize these parenting moments are fleeting.  My kids are growing up fast…too fast.  When they were little, I use to tell them that they were 'frozen' and couldn't age any more.  Once I asked Natalie when she was a toddler why she couldn't wait to turn five years old.  She said she needed to be five so that she could 'chew gum'.  Each age has offered its own unique set of parenting experiences and memories.  Very soon, my kids will be driving themselves to practices.  Travel sports will end and my children will enter the next phase of their lives…a more independent phase where I'm wishing they would hang with me all weekend.
So for now, Natalie thinks we were just fishin' traveling for volleyball.  But I know we were making memories…ones I will always cherish.