Teepa Snow engaged hundreds of Cobb County family Caregivers and further expanded their understanding of dementia. I had the privilege to hear Teepa – one of America's leading dementia educators on dementia – at an event called 'A Day with Teepa Snow: Today's Voice for Dementia' on Friday, March 31st at the Due West United Methodist Church.
I had no idea what to expect from this event since I have never even seen or heard Teepa speak. Her training is highly praised and I wanted to learn more about dementia.
Only Teepa Snow can make learning about dementia entertaining. She's witty, spunky, and she swears (in a church!). She drives home the importance of visual cues by using her hands while she instructs.

Teepa Speaks to Caregiver Ministry and Cobb County Community
Teepa's morning presentation was called 'Helping Through the Dementia Journey'. Here are just a few of my takeaways from her talk:
Teepa encouraged 'care people' to let go of what we had with our loved one who now has dementia and find pleasure and joy in the moment and with the person we have now.
Family Caregivers and individuals with dementia are scared. Just as much as we are seeing our loved ones with dementia change, they are witnessing changes in us.
Individuals with dementia have a hard time taking in visual data and visual data is what they mostly take in. Teepa says "visual cues always trump language crap".
As family Caregivers we need to smile when talking to put the our loved one with dementia at ease.
I learned about our brains' amygdala. The amygdala controls our emotions and it has two primary responses. One is to keep us alive (which can drive fear) and the other is to seek pleasure. She summarizes the function of the amygdala by saying it likes to either 'hide or seek'.
There is no shame in receiving third party help with the relationship between the family Caregiver and the caree.
Trust your instincts when working with medical professionals. Try to include your loved one in the conversations early on.
Usually the last of the five senses a person with dementia loses is their sense of sound. There is no need to raise our voices when communicating with our loved ones with dementia!
To drive some of the learnings home, we partnered up with the person next to us so we could role play and hone in on empathy. One of us was the family Caregiver and one of us was the individual with dementia. I partnered up with Flossy, who works part-time for Teepa's company, Positive Approach.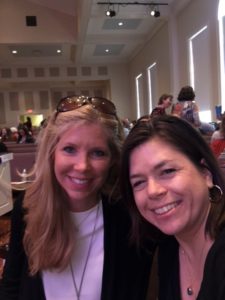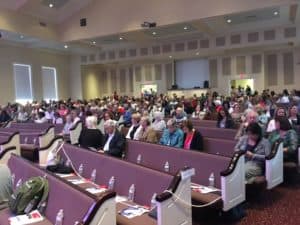 Watch Teepa Snow in Action
This video gives you a little sample of how Teepa engages her audience. Listen to the laughter! As Teepa role plays with her partner, she demonstrates how important visual cues are to a person with dementia.
My family & I  were making a nine hour drive to Florida for Spring Break that day so it was bittersweet that I couldn't stay for the entire event. I missed the lunch with fellow family Caregivers and attendees, Teepa's afternoon presentation, and the Q&A session.
See Teepa Snow at the 2017 National Caregiving Conference
I leftt the training thirsty for more. Luckily, we have another date later this year. She is one of the main stage presenters at the 2017 National Caregiving Conference in Chicago this November. She'll be leading a two hour presentation called 'The ABCs to Cope with Behavior'.
Teepa advocates for those living with dementia. She helps families and professionals better understand how it feels to be living with the challenges that accompany various forms of the condition so that life can be lived fully and well. Her company, Positive Approach, LLC was founded in 2005 and offers education to family and professional care partners all over the world. Her training is available through video, online education, and in person training and consulting.
Thank you to Shelia Welch,  the Caregivers' Ministry at Due West United Methodist Church Coordinator for orchestrating this event along with her volunteers. This event was also sponsored by Cobb County Senior Services, Senior Helpers, Hurley Elder Care Law, Wellstar, Dementia Spotlight Foundation, United Against Dementia, and Dogwood Forest Assisted Living & Memory Care.
---
Other Dementia Happy Healthy Caregiver Posts