Expert Interview – Ashley Poptodorova
Ashley Poptodorova herself is a natural energy source. Spend five minutes with this certified fitness professional and you'll leave recharged and wishing you could wear yoga pants, tanks, and flip flops to work every day.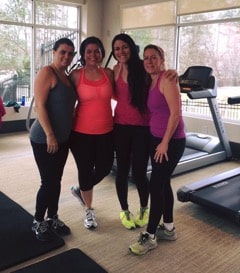 Ashley and her husband Alex have been my training team for two and a half years. A friend of mine was their client and I had watched her achieve amazing results. I was frustrated with where I was with my health goals, had tried dozens of diets and exercise regimes on my own, and decided I had had enough of navigating through all the different health and wellness information on my own and it was time to bring in the experts. When I first met them at a local coffee shop, I shed tears of frustration and they assured me that it would take time but that they could help. Little did I know then, what an emotional journey I would start. Soon after hiring them to create a personal nutrition plan for me and start my group strength training sessions, my mom was hospitalized and I've shared the rest of the story in several posts on my site (here and here).
Ashley is also a professional speaker and aspiring author who has such a drive and motivation for encouraging others to see the best in themselves. Ashley embarked on her own journey to health with the help of her husband Alex. At one time Ashley weighed 208 pounds and successfully lost 80 pounds. To me, Ashely is more than an expert, she is a friend. I strength train with her twice a week and she has pushed me to new heights, physically and emotionally, including sharing my personal stories and starting Happy Healthy Caregiver. She's positive, encouraging, beautiful on inside and out…and the strongest woman I know!!! (more…)