"Mom, what's for dinner?" may be the most annoying question of the day.
Dinner is something my fantasy self is really good at. In my head I cook yummy hot, healthy, homemade meals that are prepared with love and see my family enjoying every morsel around our family dinner table while recapping the events of the day.
Not so much a reality with a tired family coming home from different stresses of the day. Some are famished and in need to rush off to homework or the next thing.
My true self does the best she can with dinner with the energy and time allotted..and definitely solicits the help of her family in the process. My husband takes turns preparing meals and one kid sets the table and the other helps with cleanup.
Two weeks of healthy dinner options
Finding the perfect combination of recipes that 1) my entire family will eat, 2) are easy to prepare, and 3) help me reach my health goals is a struggle.
So when you find a meal that meets all three of these criteria, you repeat it.
Here are two weeks of meals that are part of our usual dinner fare.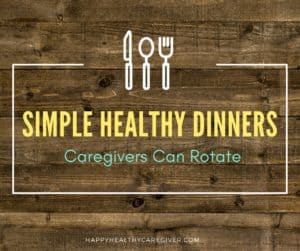 Peel and eat boiled shrimp with baked potatoes.
Grilled lamb chops with grilled mushrooms in foil packet and shortcut carrots/cucumber slices on side.
Grass fed beef tacos (shells or tortillas for kids, lettuce leaves for adults), with corn and avocado
Unfried chicken tenders with green beans and cucumber, tomato salad
Baked salmon with sautéed mushrooms and asparagus.
Pork tenderloin with tossed salad and corn on the cob.
All beef hot dogs with baked French fries and sauerkraut.
Whole chicken in a crockpot with sweet potatoes and sautéed zucchini.
Zoodles with grass-fed beef meatballs, organic tomato sauce and fresh parmesan
Broiled lobster with broccoli and bag salad.
Steak, roasted or mashed cauliflower (mashed potatos for kids), and sautéed onions.
BBQ pork sandwiches with fresh fruit and greek salad.
Homemade chicken soup made with rotisserie chicken and cut up celery, mushrooms, and carrots. Egg noodles on the side for the kids to add.
Pork ribs in the crockpot (sauce added after) with sliced apples and Hawaiian roll for kids.
While we try to cook from home as much as possible we do probably dine out two dinners a week. Life happens and energy dwindles.
Take Action
Print out this list of dinner options and post it on your fridge or near your cookbooks. Write in a few of your family favorites.
When you are meal planning your week or preparing to go to the grocery store, reference your quick dinner list.