I've been sitting on this advice for a few months and it's time to release some of it into the universe.
My dad passed away 2 years ago this week. A death anniversary is melancholy yet I have this urge to do something in memory of this special person to continue to honor his life.
A few months ago, my cousin Meghan emailed me the collection of dad's unpublished chapters intended to go into his next book. It seemed too special a gift to unwrap at the time, like a fine bottle of wine that deserves a special occasion. He had asked Meghan to review it because she has editing experience and he valued her opinion. Meghan was in the process of editing dad's chapters when he passed away in 2014.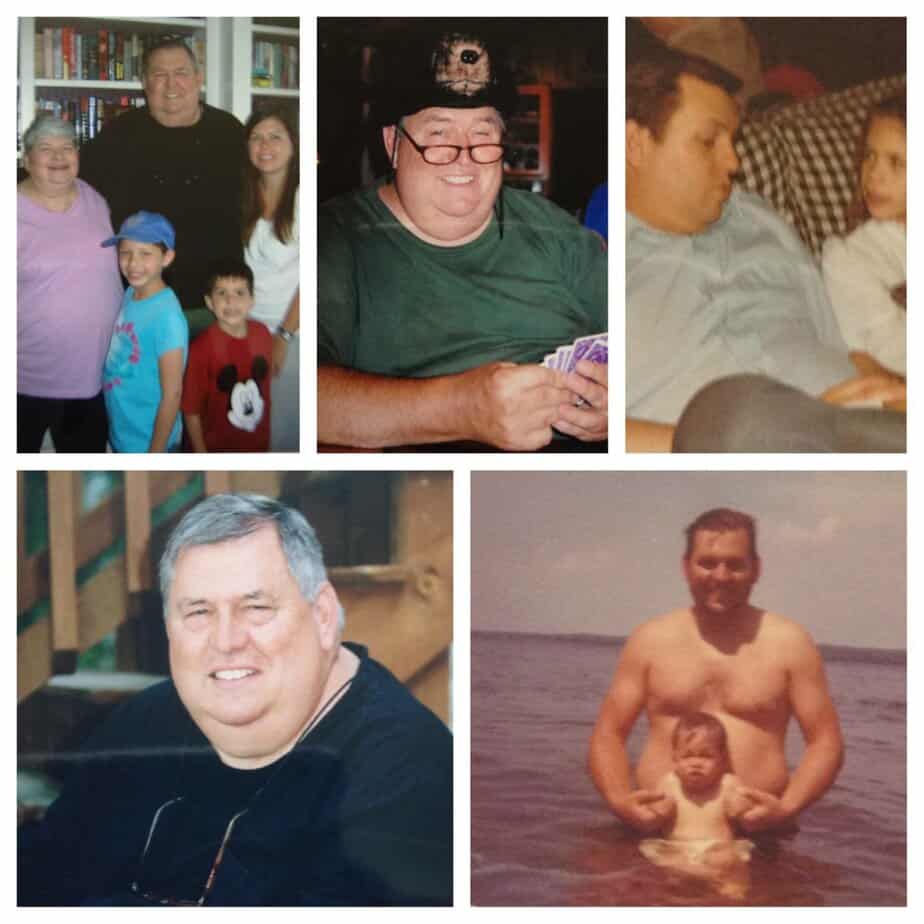 My dad's first book, A Drop in the Bucket:Thoughts, Musings, and Jottings on Life's Experiences was published in 2006. He proudly gave everyone in our family a signed copy. At the time, I was impressed and proud of him for setting a retirement goal and seeing it through. He even had his book forward written by Newt Gingrich. I dove into his book and supplied several of my friends with a copy. Dad was certainly inspired by mom my who had been writing her fictional children's series over their entire married life.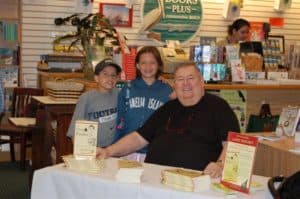 Once dad passed, I realized what a true treasure this was to have his own words and pearls of wisdom written and available to me and future generations,
As promised, here are a few of dad's unpublished drops that would certainly pertain to the Happy Healthy Caregiver community.
"Nothing Tastes as Good as Thin Feels" written by Larry Beighey
I have been battling my weight since I graduated from college.  I weighed about 175 pounds when I got out of school.
I always blamed my weight gain on my participation in sports during my years at Penn State.
We had baseball practice every day that would run to about 6:00 PM and we would hurry to take a shower and get to the "training table" and eat before it closed at 7:00 PM. Of course, we were famished.   Since Penn State paid for the training table and it saved us a lot of money, we ate everything in sight – probably "gulping down" well over 2,000 calories and lots of carbs in one sitting.
We didn't gain any weight because we were burning it all off.
All of a sudden, I was sitting at a desk every day but still eating everything in sight. To fight this I worked out every day of my life until I was 27, but then things started to change.
All my "buddies" were starting to get married and they were not available to play racquetball every night. I gained about 35 pounds and had to fight to stop the gain, but it was a struggle.
As I have aged, I have lost my battle with my weight. It has made me very depressed but I continue to fight.
Every day I awake and vow that I will start anew.
I am a very disciplined person and find it hard to accept that I can't overcome this disease.
It is not all downhill. Four times in my later years I have started a diet and exercise program and have lost 40, 75, 30 and 25 pounds but have not been able to keep it off.
It is a major problem for me in my otherwise perfect life. I have learned that "nothing tastes as good as thin feels."
Tomorrow is a new day, and I will get up and try again.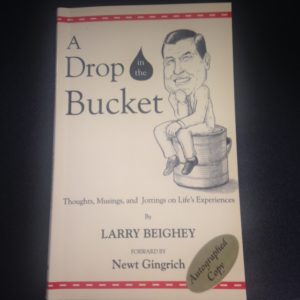 "Two Mouths, One Ear" written by Larry Beighey
If God wanted you to talk twice as much as he wanted you to listen, he would have given you two mouths and one ear.
People use all different techniques when they are in a conversation with other people.  I am sure you know people who don't converse at all and remain a mystery. There are other people who don't even stop talking long enough to catch their breath, never giving you an opportunity to interject anything into the conversation. These non-stop talkers are not good listeners and can easily give you the impression that what you have to say is not important to them.
I believe that I am a very good listener, although I am sure my wife would not agree with me. I work very hard to listen to what other people say.
One problem that I do have is that I concentrate so hard on thinking about what I want to say or what I am going to ask that sometimes I lose my train of thought or my concentration on what the other person is saying.
By being quiet and letting the other person talk, concentrating on what they are saying, and many times taking notes, you not only flatter the person who is talking but will also better understand the person. In fact, you will also increase your knowledge about that person and his or her subject matter.
If you are in a situation where you cannot take notes, you can always go back when the other person is finished and ask the person to elaborate or clarify.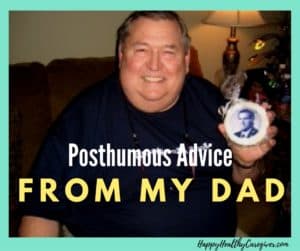 Why I Chose These Particular 'Drops'
The first drop I shared, 'Nothing Tastes as Good as Thin Feels', accurately shared the spirit of my dad and in all honesty his Achilles heel. He was a pillar of strength in every area except when it came to food.
Food is an addiction and emotional eating is real. Dad's weight complicated his health and ultimately shortened his life.
What I love about what he wrote is his determination and willingness to keep figuring it out. As caregivers, we can relate to this. Life is hard. We keep trying. Every day is a fresh start to make it better.
The second shared drop, "Two Mouth, One Ear", reminded me that as caregivers we need to remember that the people we are caring for are struggling and sometimes as caregivers we have to really listen to uncover the underlying message.
A frustrating statement to hear like, 'I don't see you very much anymore' could mean 'I am lonely and I miss you.'
'You never listen to me!' could really mean 'I am so frightened that I'm losing control of my life.'
I know when I have heard phrases like these, my immediate response was to be on the defensive. I think they were really cries for help and reassurance.
Both of my parents have always loved the written word, especially quotes. The right words at the right time can speak to our souls. If you'd like a collection of quotes that inspire me, click here or the image below to receive your copy. I intended for these to be like little daily fortunes. You can cut them up into slips and read one a day.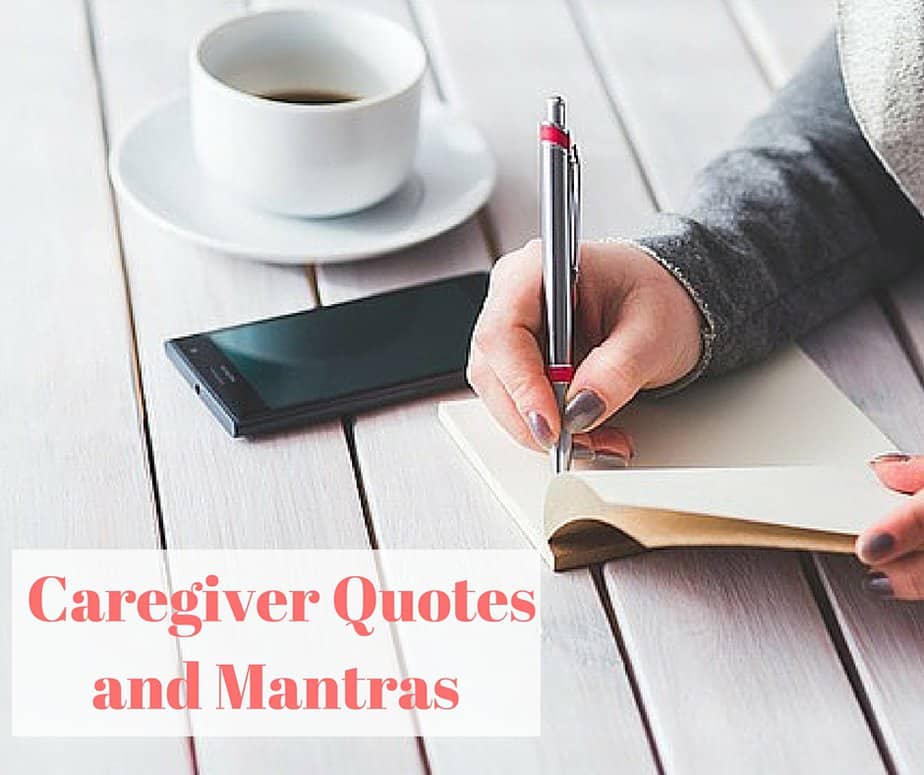 Please note that the books links shared in this post are Amazon affiliate links, meaning that I receive a small referral fee when items are purchased but at no extra cost to you.