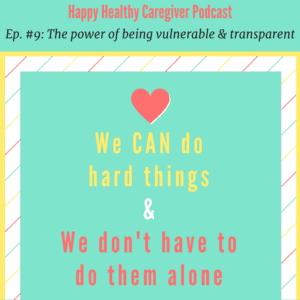 Being vulnerable and transparent about our caregiving experiences isn't easy but it has benefits for you and others. Elizabeth shares why she decided her blog couldn't be anonymous and how it helped her find support and resources.
Listen to the show: The Power of Being Vulnerable & Transparent
Words of Encouragement
Each episode starts off with a few words of inspiration or motivation that is pulled from the Happy Healthy Caregiver Jar.
Links & Resources Mentioned
Some of the links on this page are Amazon affiliate links. When you click on a product and choose to purchase it, I receive a small thank you from Amazon which helps reimburse me for my blogging, podcast, & site expenses. There is no additional cost to you for making a purchase.
Stay in touch