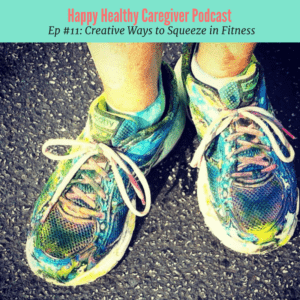 In this episode, host Elizabeth Miller shares tips and systems that have allowed her to make fitness a healthy habit. This episode is also packed with creative ways to squeeze in more physical activity into your busy day.
Listen to the show: Creative Ways to Squeeze in Fitness
Words of Encouragement
Each episode starts off with a few words of inspiration or motivation that is pulled from the Happy Healthy Caregiver Jar.
Links & Resources Mentioned
Some of the links on this page are Amazon affiliate links. When you click on a product and choose to purchase it, I receive a small thank you from Amazon which helps reimburse me for my blogging, podcast, & site expenses. There is no additional cost to you.
Stay in touch