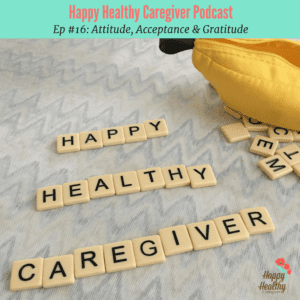 In this episode, host Elizabeth Miller talks about the importance of attitude, acceptance & gratitude. She shares small everyday events that bring her comfort.
Listen to the show: Attitude, Acceptance & Gratitude
Words of Encouragement
Each episode starts off with a few words of inspiration or motivation that is pulled from the Happy Healthy Caregiver Jar.
Links & Resources Mentioned
Stay in touch
Join the Happy Healthy Caregiver Facebook Group and our Facebook Page
Subscribe to the Happy Healthy Caregiver newsletter to stay up to date on the latest posts & events.
Email me with questions or comments about the show or to request information about sponsoring the show.
This week's listener questions: What's one thing you are grateful for today? Or, what's one small everyday moment that brings you comfort?