Registration for the 2017 National Caregiving Conference is now open. Are you committed to going or considering watching it virtually?
I'll be at the event in Chicago (with my sister!!) and we'd love to connect with you in on Friday, November 10 and Saturday, November 11th.
Last year, I wasn't sure I could go. I was wondering how I would getaway. Who would take care of everyone? Did I have enough days available to take off from work? Could we afford the expense?
Thankfully, my husband talked me in to attending and I'm so glad he did! Now, I'm going to pay it forward and encourage you to attend by sharing five main reasons.
5 Reasons to Attend NCC17
1. Take a break!
The National Caregiving Conference is not a wild girl's weekend in Vegas but getting away from your caregiving responsibilities and normal daily grind is necessary. Escaping for just a couple days will recharge your batteries.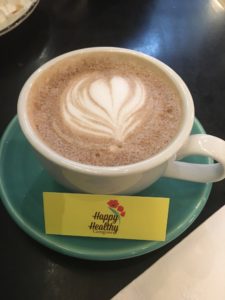 Last year, my husband Jason went with me to the conference. He was the primary caregiver for his mom who had lung cancer for four years so he 'gets it'. No meals to cook, no errands to run, no day job to run off to. Just being in the moment without any distractions was a treat.
2. See Chicago
The change in scenery reminded us we weren't in Georgia anymore. We even saw some snow! We also got to spend a half day in downtown Chicago. My first time visiting the windy city.
The train station literally right next to the conference hotel took us into downtown Chicago. We kicked off our sightseeing with deep dish Chicago pizza and then we saw several of the main sites. Chicago is a terrific walking city so we got our workout that day, too. We saw Millennium Park, Cloud Gate (aka 'the Bean'), shopping along the Magnificent Mile, and finished our downtown visit with the outdoor holiday market (the conference was in early December last year).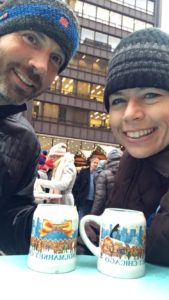 3. Gather tools & tips for your Caregiver Toolbox
The majority of the panelists and presenters are current or former family caregivers. After all, we are the experts in our field. Tried and true from the trenches tips and stories.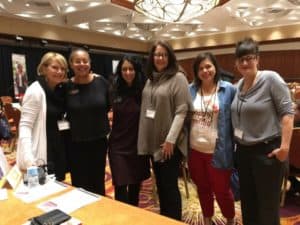 Our keynote this year is with Dementia expert Teepa Snow. I got to see Teepa Snow in Atlanta earlier this year and she is a hoot! You'll be learning while you are smiling and laughing.
Last year, I was thrilled to be a panelist for the 'Coping on Difficult Days' session. This year, I'm excited to share two presentations. On Friday, I'll be leading a hands-on workshop for family caregivers called 'Be Bold with Your Time'. All attendees of this session will leave with a plan that incorporates more time for the activities they love. On Saturday, I'll be sharing a presentation with fellow professionals who work with family caregivers called 'Be Loud and Proud about Your Caregiving Business'.
Recently, Denise Brown invited me to be a guest on her podcast 'Your Caregiving Journey' to share about the conference. In this episode, I share more about my past conference experience and more detail about what we'll be talking about in the two 2017 presentations.
4. Receive Words of Affirmation
Whether words of affirmation is your love language or not. It just feels good to hear nice things about yourself. Caregiving is the hardest thing I've ever done. I share one of my boldest moments when I shared my Bold Caregiving Moment in this video.

The theme of this year's conference is 'Our Boldest Hours' so you will hear many bold stories from current and former caregivers all affirming the amazing work we do.
5. Expand your tribe of fellow caregivers
No doubt we can do hard things. We do them every day. But, the good news is that we don't have to do them alone.
Caregiving is better with friends and supportive resources.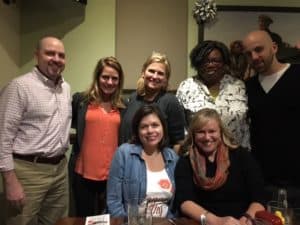 You will leave NCC17 with emails, phone numbers, and supportive websites. Better yet, you may just meet someone who lives right around the corner from you.
You will return home armed with contacts to reach out to when the next puzzling question surfaces or crisis arises. You will also leave energized about the future possibilities that can arise from your caregiving journey.
Ready to attend the Conference?
I bet if you are anything like I was last year you are thinking of several reasons why attending a conference away from home for a couple days would be a challenge.
Who would care for your loved ones? How could you afford the trip?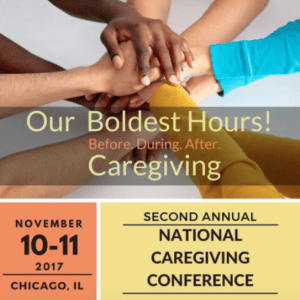 Get ready for the mindset shift…
Instead of thinking of attending ncc17 as a loss for your family or an expense…think of it as a gain and an investment.
Just can't see any way to make it there in person? Well, this year the majority of the conference will be live-streamed and recorded. I love that the conference has this option.
Take Action
Quick! Right now, make a list of what would need to happen to getaway for the conference.
How many hours of care will be needed? Who could fill in for you? Consider home health options. Another option that I recently learned is that many assisted living and senior service centers offer short-term respite. To find an agency in your area which can help you get a break, visit eldercare.gov.
How much money will you need for the weekend? Remember those airline and hotel points that your family members have.
Family and friends have been asking how they can help you. It's time to request the help.
Once your mental thoughts are captured, circulate the idea of attending the conference with your partner, siblings, or anyone who supports you in your caregiving role. They may offer a solution you haven't even thought of.
Once you have figured out your personalized attendance plan, don't forget to register for the event! Early bird registration before August 31st will save you a few dollars. Also, you can use my Certified Caregiving Consultant referral code (ELIZABETH) to save on any products and services on caregiving.com. CLICK HERE to register for the conference – whether you plan to attend in person or virtually.
Oh! One last thing. I want to know if you are going so we can arrange to meet up! I do hope to see you there!