I'm not my mom and my mom isn't me.
Profound, right?  I thought so.  This simple statement slapped me upside the head when I heard this from Dawn, the owner and creator of a nonprofit organization called ALOHA (A Life Of Healthy Aging).  Dawn's organization visits my mom's new assisted living community monthly to offer support to resident's families.
Dawn followed this statement with a question: 'who is your mom?' and challenged me to find out.  I definitely know who I want her to be – I want her to be me!  But, even though she has been my mom for 44 years, I still have some detective work to do in order to answer this question.
I shared, she listened.
I shared many of my current frustrations with Dawn, some of them tearful.  I had the pleasure of being the only family caregiver in attendance that night so I received 1-on-1 attention.  Dawn willingly listened and certainly validated my feelings by echoing that she too has felt this way before.  That was comforting to hear.  She listened to my stories and frustrations and offered suggestions that have worked for her.  I took notes!  I care about my relationship with my mom and I am desperately seeking harmony.  I'm willing to work at it and I definitely admit that I can tweak and make changes.
I shared with Dawn that last few weeks have been especially difficult on me.  I've struggled to want to talk and see my mom who I know is lonely each and every day because our visits are emotionally draining for me and I leave a conversation or visit with her deflated and feeling like no matter what I do it's never enough.  There is a ton of internal guilt and processing time that accompanies these feelings.  Visits where we watched a movie, brought in a meal, did some adult coloring or played Skipbo feel like ages ago.  Visits lately are filled with getting her apartment situated, helping her change hearing aid batteries and stocking her supplies, and lots of conversations where she complains about her care management and I quickly respond with the same old questions – usually with' did you push your call button?' or  'have you told them what you want?'.  I so wanted her new place to fix all the problems we had at the other assisted living.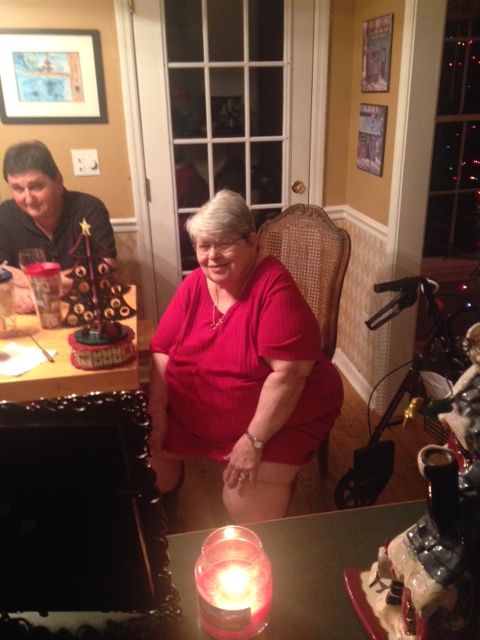 I explained that everything physical is hard for my mom.  Getting ice in her water is a chore.  She needs help showering and getting dressed.  She can't leave her apartment without being escorted in a wheelchair.  While my mom struggles with anything physical, her cognitive abilities are great.  She is capable of using her voice, her iPad and her telephone.  When my dad was alive he took care of all of the bills, online ordering, scheduling of appointments, and strategizing about their future.  For years my mom had dad neatly arranging their lifestyle and had personal daily assistance from an in-home part-time caregiver.  Some would say she was definitely spoiled.  Since dad passed away and we moved mom, we've had to find a new normal.  Part of this new normal is expecting everyone in my family to take on more than they had before.  My sisters and I affectionately call our extra part-time jobs 'Mom Corp.'  We all have divvied up the responsibilities for my mom, my adult developmentally disabled brother, and my parent's summer homes in Michigan.  We regularly uncover new duties we need to fold in to the process.  One of the new jobs I added to my list was arranging to order the flowers for my maternal grandparents' gravesites.  We recently missed the deadline to get the holiday wreath my dad had usually arranged so we had to settle on a floral blanket this year.  Now I have a scheduled annual event on my calendar to arrange for this next year.
What's the opposite of hope?
Prior to going to my first family caregiver meeting, I had an 'a-ha moment'.  For the last several years, I've held on to hope.  Hope that my mom and dad would see the light and make different choices to get their healthy lifestyles back.  I have always felt that they both possessed the power to change.  The fire just needed to be lit and the right programs, people, and opportunity just needed to align.  I had hope when they retired young they would remain active and travel.  I had hope when they went to a place in NC called Structure House for several weeks at a time (I think they went 3 times) to learn how to eat healthier and make it part of their lifestyle that new habits would stick when they returned home.  I had hope when each of their 11 grandchildren came along thinking this could be part of their new 'why' they needed to do what they can to be around on Earth longer.  I had hope each time they were released from the hospital thinking this would be the wake up call to make the necessary changes.  I had hope when mom buried two of her three siblings who died of causes related to their diabetes and unhealthy lifestyles that this would shine light on changes she needed to make to choose a different path.  I had hope when we moved mom to her first assisted living community that she would strive to find a way to get in the heated salt water rehab pool and embrace the social activities.  Most recently I had hope that she would insist on the daily physical therapy that is available to her in her new assisted living community just a handful of rooms away from her apartment.
That's a huge list of hopes and desires that interpreted differently are expectations that I have set on my parents.  These hopes seem so reasonable to me.  I believe in my heart I would do them if faced with the same situation.  It's clear to me that the benefits far outweigh the short-term negative efforts.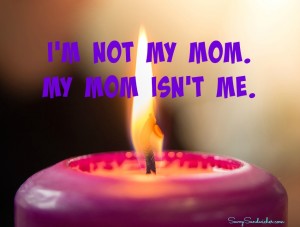 I'm not sure what the opposite of hope is, but in my case I think it may be acceptance.  Said simply my 'a-ha' moment is that in order to accept the situation as it is with my mom, I need to give up hope.  And when you give up something, you grieve.  I'm currently grieving the hope that mom's health can recover and improve.  Dawn referred to this process as the 'G.A.G reflex' –   Guilt, Anger and Grief.
Transitioning through role reversal is tough
I often draw parallels between parenting my kids and helping my mom.  In many ways our roles have transitioned.  I'm now parenting my parent.  She doesn't like it and neither do I, but it's where we are.  There is a delicate balance when we parent our children between pushing them to be their best and do their best and accepting who they are.  Can they do better in math or is this the best they can do?  Are they capable of performing in their sport better or are they giving it all they have?  It's often a gut feel and I'm sure my kids would say my husband and I push them and expect much from them.  I've been utilizing the tough love push technique on my mom, too.  Is mom capable of doing better or is she who she is and giving her best.  Is it time I accept that this is as good as it is going to get? Should I change my focus from searching to find the mythical sunny meadow to honing in on the few rosy spots in the briar patch?
I shared this question recently with mom. I explained to her that it was difficult for me to want to visit because I leave feeling so defeated.  I shared that for me accepting her situation felt like giving up hope and that I was struggling with these depressing feelings.  She defensively responded that it was okay if I didn't want to visit.  I didn't mean to hurt her with this, sometimes I just need her to empathize what it feels like to be in my shoes.  I asked her if it was time for me to accept her as she is and give up hope for seeing her make healthy changes.  She calmly told me she was ready to go (to heaven) and that she looked forward to seeing all the people up there.  Of course, I responded that it wasn't her time and that she evidentially had more to do on Earth.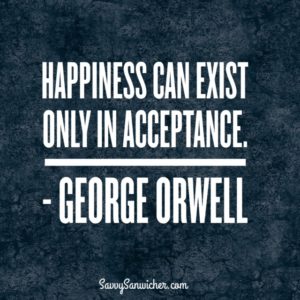 Take Action
So Dawn left me with a homework assignment to really hone in on who my mom is.  I'll be sharing more about this in an upcoming post.  In the meantime, I did take away a few other tips from my first family caregiver support meeting that I can immediately put into practice:
Plan one fun thing to do during each visit with mom (i.e. adult coloring, play a game, share a meal, or catch up on our lives).
Set expectations for the visit letting her know I want to help her but I also want time to do our one fun thing.  Limit my jobs during a visit to 3 things.
Remind her that skipping a shower, a meal, physical therapy, or her compression legs is like skipping a dose of medicine.
Work with mom to define responsibilities and boundaries by making a list of what mom can do for herself and where she needs assistance from her family.
I left the caregiver support meeting feeling understood and armed with a few new tools.  I also left knowing that I'll come back…and I'd like to bring my brother Tim next time so we can work on these things together.