A guest post written by Erica Hornthal, founder and president of Chicago Dance Therapy. I had the pleasure of meeting Erica at the 2016 National Caregiving Conference and attended her movement breakout session. Her techniques opened my eyes to a fresh new tool for our caregiving toolkit.
As a dance/movement therapist, I have the opportunity to connect with individuals through their bodies, not just through "dance" but through non-verbal expression, communication, and body language. Our bodies have a wonderful way of expressing wants and unmet needs. Martha Graham said, "The body never lies." This is true as long as we look and listen.
In this post we'll explore several ways to blend movement with caregiving.
Observe movement qualities
Movement qualities, much like personality traits, are movements inherent to a person. Here is a list of movement qualities you might observe in someone:
Posture – how does the person stand or sit?
Breath – how easily does the person breathe?  Is it deep or shallow?
Eye contact  – does the person make eye contact?
Facial expression – what emotions is the person capable of expressing?
Become familiar with the movement qualities of those you help care for (your caree).
This should provide a baseline or indicator of what the person's usual movement behavior may be. Try the qualities out for yourself. How do they make you feel? This will create an opportunity for you as the caregiver to empathize. Also, observe any changes in movement qualities as this can be a sign of emotional or physical distress.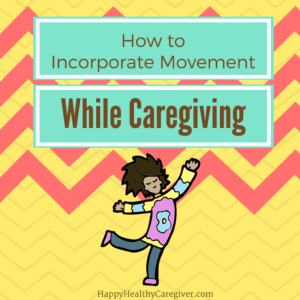 Introduce movement into your interactions with your caree
Here are five suggestions to incorporate movement with your caree:
Make or encourage eye contact
Use gentle and appropriate touch (i.e. hand holding)
Invite the individual to take a deep breath
Encourage the individual to change their posture
Join the individual on their spatial level. (Hovering or standing over someone can be intimidating and demeaning to some. Try sitting or squatting next to or in front of the person with whom you are communicating. Remember to be considerate of cultural differences as certain movements in certain cultures can be a sign of disrespect.)
Incorporate and add movement daily
Safely adding movement into your relationship can support positive and empathic communication. Continued exposure is the key. Even if cognition is affected, muscle memory, the body's ability to retain information, can remain intact with constant reinforcement.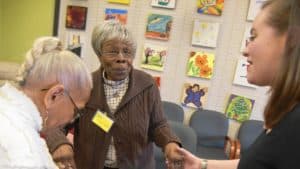 Use movement to prevent caregiver burnout
Taking care of someone can be physically and emotionally draining. It is vitally important that we take care of ourselves. Practice the following to prevent burnout.
Be mindful of how you are feeling physically and emotionally.
The person you are caring for can pick up on those feelings.  Anytime we are providing care to another individual, our emotions can transfer to them just as their emotions can also transfer to us.  Be aware of how you were feeling when you began the day and notice if that has changed in relation to the person to whom you are providing care.
Take care of yourself
You can only provide care when you yourself are at your best. You must take care of your health in order to support others around you. Here are some suggestions:
Practice deep breathing to ease anxiety
Take a walk to get your blood flowing and improve circulation
Stretch throughout the day to combat stiff muscles
Use your five senses (sight, hearing, taste, smell, touch) to orient to the present moment. This will enhance your self-awareness, spatial awareness, and ability to "live in the moment".
Get moving!
Find something physical that you enjoy doing. If it is enjoyable, then it will be easier to incorporate into your routine and it won't cause added pressure or stress. Examples may be dancing, exercising, yoga, meditation, or even painting.
Erica Hornthal, MA, LCPC, BC-DMT, is a licensed professional clinical counselor and board certified dance/movement therapist based in Chicago, IL. Erica is the founder and president of Chicago Dance Therapy, a holistic psychotherapy practice founded in 2011.  Within the practice, Erica specializes in working with older adults who are diagnosed with dementia and movement disorders. She is passionate about educating caregivers and family members on how to connect with their clients and loved ones through movement.  
Click here to learn more about Erica's resources and services for family caregivers and their families.
---
Related posts (Click an image to link to specific post)