Mother's Day is just around the corner.
After years of buying for the women in your life and limited time to shop, you may be challenged to find a Mother's Day gift.
Never fear, ideas are here!
Below you'll find a list of unique and thoughtful gift ideas you can present to the important women in your life this Mother's Day.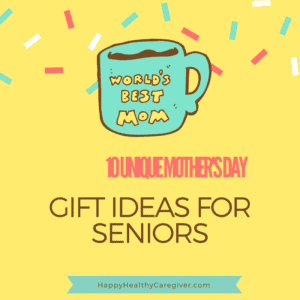 Magazine Subscription
What I love about a magazine subscription is that it's a gift that keeps on giving. You know your caree's interests best.
Even though my mom hasn't cooked in years, she still enjoys reading cooking magazines. She loves Southern Living and Bon Appetit. People Magazine is another one of her favorites. The last magazine gift mom received from our family was Reader's Digest. Many magazines, like Reader's Digest, offer a large print version.
Creative Books – Puzzles, Coloring, & Self-Exploration Journals
Puzzles have been proven to sharpen our minds. As our loved ones age, this is even more important. There are many styles to choose from – Suduko, Word Search, Logic Problems, and Crosswords.
The adult coloring book market has exploded with tons of options. What I love about coloring is that it's an easy activity family members can do together. Depending on the dexterity of your loved one, you may even want to opt for a children's coloring book. Invest in some fun colored pencils or crayons and you've got hours of entertainment.
My mom loves to write. She's written a series of young adult books. There are some creative self-exploration and happiness journals out there that remind me of the fun fill-in-the-blank books I used to love to do in elementary school. Here's a journal with high ratings that I'm considering.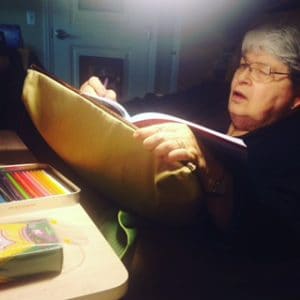 Cozy Clothes
Fuzzy socks coated with aloe. A great bathrobe. Snuggly house slippers. Decadent monogrammed towels. Often these are items many seniors wouldn't purchase for themselves.
Bath & Body Gifts
My mom spends much time in the bathroom and washes her hands a lot! One gift that I got her that went over well was a medley of scented hand soaps. If your loved one enjoys taking a bath, try some body sprays, or the latest and greatest invention – bath bombs! Lotions are a great option as well.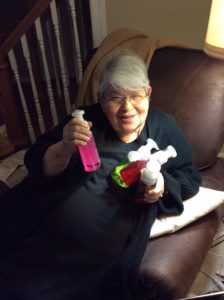 A Stuffed Animal or Baby Doll
For many dementia parents or isolated adults, a stuffed animal or baby doll can be a comforting companion. Some of these are so life like!
Monthly Subscription Box
Who doesn't love to receive a fun mystery package? Especially if your caree is long distance. A gift of the month club can be a great way to say 'I'm thinking about you' and give you something fun to talk about over a phone call.
The subscription business has been exploding! You can find subscription clubs focused on tea, chocolate, snacks, pets, and almost every hobby you can think of. Here's a link to a directory of hundreds of subscription box ideas. Grandbox offers a nice medley of different things. When my mother was in an Assisted Living, she loved to decorate her entrance. She would have loved this Wreath of the Month club!
If your loved on is very sick or in the hospital, check out Caregifting  as a single gift basket option.
A Digital Picture Frame
In today's world printing photos is a rare thing. A gift that we got my parent's one year that they loved was a digital picture frame. There are some that come with an email address where you can simply email pictures directly to the device. They always had current scrolling pictures to look at and it doesn't take up tons of counter space. Click here to see the frame we have enjoyed for years.
Books – Traditional & Audio
If your loved one still has great reading eyesight, books can be a way to relax and escape to another world. My mom loves her iPad and has learned how to use her Kindle app. Sometimes she just needs some help downloading her next book. While her mobility is limited, reading can easily take her on a journey.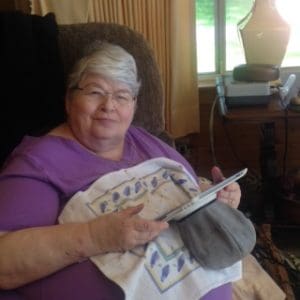 If reading is a struggle, audio books may be an option. A gift membership to Audible gives your loved one a story teller. If an online audio book is too complicated, you can often find gently used CD audio books at Goodwill or a used bookstore chain I love called 2nd & Charles.
If paperback or hardback books is your caree's preference, many stores offer large print options. Need a book recommendation? On Goodreads, I track and rate everything I read and love to see what my friend's are reading.
Make a Mother's Day Memory
If your loved one can leave their abode, consider their interests and buy tickets to a local play, a trip to the fancy movie theater with the reclining chairs, afternoon tea, or visit a local museum.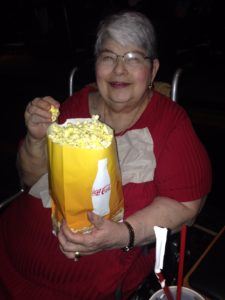 If you family member is confined to their room, bring a special memory to them. Pack a special picnic using disposable party supplies or play a board game. Maybe get the whole family involved and have a coloring contest (see adult coloring books above).
Teaching your loved one a new activity can go a long way. Download a new application on their smartphone or computer so they can play Yahtzee or put together digital jigsaw puzzles (my mom LOVES the magic puzzles app). Or…maybe teach them how to Skype or Facetime other family members.
Spa Treatment
Book an in-home masseuse appointment or call a local nail salon to see if they'll make a house call for a manicure or pedicure. Or, bring your own kit for the personal at-home spa treatment. Listen to some favorite show tunes or hits from their favorite era while you are pampering mom.
Time to Shop and Save Money
I hope one of these gift ideas jumps out at your or sparks an idea of your own. I'd love to hear about some of your ideas. Please share them in the comments below.
Tip: Always check RetailmeNot.com for coupons and promotions before submitting your online orders.
I'm also loving my checks in the mail for things I am already buying! I signed up for a free program called eBates where I earn cash back from my purchases. Here's my personal ebates referral link if you'd like to check that free program out.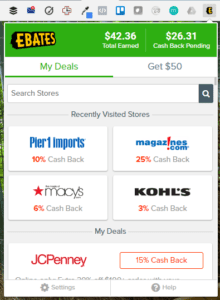 Happy Shopping!
P.S. Many of you are a caregiver and a mom. I hope someone spoils the heck out of you this Mother's Day. Don't forget to drop a few clues about what you'd like to do or open this Mother's Day.
---
Need a few more bonus gift ideas? My Favorite Things Page has some other fun & practical gift suggestions…for you and mom!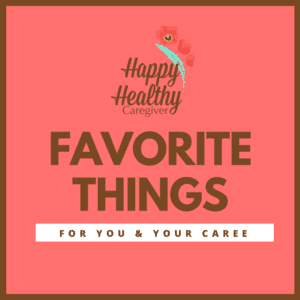 Elizabeth Miller is a participant in the Amazon Services LLC Associates Program, an affiliate advertising program designed to provide a means for sites to earn advertising fees by advertising and linking to amazon.com. When you click on a product and choose to purchase it after seeing it on my site, I receive a small thank you from Amazon which helps reimburse me for my blogging & site expenses. There is no additional cost to you.