Growing up the month of June was all about my dad.  He was the only one in my immediate family with a June birthday and we celebrated Father's day, too.  Needless to say, I've been thinking and talking about him a lot this week.  This August it will be a year since his passing so we have almost made it through all the 'firsts' without him.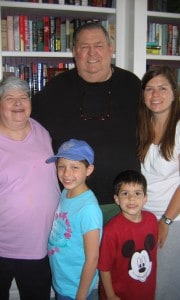 We miss him
I know my mom misses him the most.  She is so lonely without him and her life has completely changed since he passed.  Within two weeks of his death, we had packed her up from their Florida condo and moved her into an assisted living six hours away so she could be near me and my three brothers.  So many new changes for my 77 year old mom in one year and she spends a majority of her time all alone which she hasn't really ever done in her entire lifetime.  She went from her parent's home, to nursing school, to marriage.  Mom and I talked this week about how we thought dad would want us to feel about Father's Day and his birthday.  We knew he'd want us to be happy but also remember him.  He loved a bit of a fuss on his special days.  We both recognized that it is OK to miss him, shed a tear or two and then focus on what all we had with him…not what we no longer have.  Falling into a pit of depression definitely won't bring him back and would just hurt those that we love still living around us.  My dad was too practical and productive to have us sit around in a dark pit.
Dad's wisdom
Dad had lots of sayings, stories, and wisdom to share.  I'm so grateful that he wrote them all down!  Both of my parents are self-published authors.  My dad's book A Drop in the Bucket: Thoughts, musings, and jottings of life's experiences contains 50 different short chapters or 'drops'.  Each of the drops tells a meaningful lesson that played a significant role in his personal, business, family or social life.  He was working on editing book two containing another 50 drops when he passed.  Can't wait to uncover this little treasure!
To give you an overall flavor of his 'drops', here are some of his chapter titles:
·         Cream always rises to the top
·         Don't ever be embarrassed to ask too much or offer too little
·         Don't spend money until you have to
·         Ask a busy person
·         If you haven't touched it in two years – throw it out
·         Surround yourself with good people
·         It's easier to get forgiveness than it is to get permission
My dad was a savvy guy.  A great businessman that grew quickly to the top of his industry and a successful entrepreneur.  A man who put his family first.  He gave all his kids 'roots' and 'wings' and encouraged us to follow our dreams.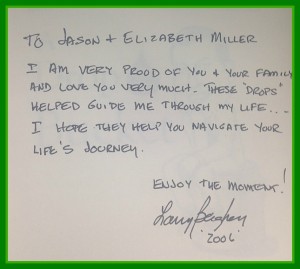 My favorite drop
I have lots of quotable or favorite drops but the one I say most often is 'life is a contact sport'.  In this drop or chapter, dad writes: "It's true that having contacts alone will not get you through life, but it does open doors for you that would otherwise be closed; and many times it will put your name in front of someone that otherwise would not have encountered it."  I think this drop speaks loudly about the power of social media and networking.  Sharing a Savvy Sandwicher post, pin, or tweet with your friends and families introduces me to a whole new circle of people.  These people may read something encouraging that triggers a healthier behavior and then they share it.  And so on and so on.  That's the power of exponential growth!
Dad often spoke to us about having our own businesses.  I have started this blog since his passing but I have no doubts that he knows about it.  I truly feel his presence and encouragement each time I sit down to 'work' and I can visualize the proud smile.
Dad, I wish you were here so I could gain your business wisdom on this new journey but mostly I wish you were here so I could give you a big birthday hug and kiss.  We're honoring you today and the amazing legacy you have left behind in your drops and in your family.
How do you honor your parent's no longer in your presence?  What gives you comfort on the first special occasions and holidays when you know something is missing?