As family caregivers, we have to be ready for the unexpected. Organization will help you be ready because a caregiving crisis is always lurking. Unlike the children many of us care or cared for that eventually become more independent as they age, our aging parents we may be caring for are moving in the opposite direction, doing less physically and potentially remembering less mentally, eventually becoming completely dependent on us.
A caregiving crisis may be a trip to the emergency room but it could also be that urgent frustrating call from your loved one like they can't make a donation online to the republican committee, they have no more diet ginger ale, they can't get into their Facebook account, they completely ran out of disposable underwear or the Wifi isn't working ( can you tell these have all been crisis of the day 'emergencies' for me?!). After all we are often our caree's primary shopper, tech support, and contact with the outside world.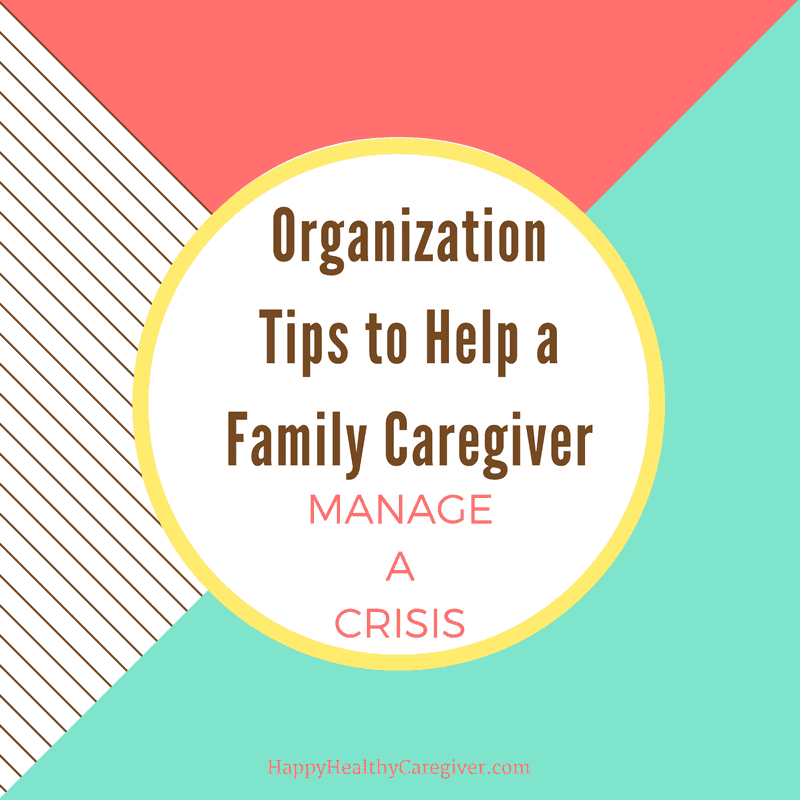 8 Organization Tips to Better Manage a Caregiving Crisis
Since we know that a caregiving crisis is more of a 'when' than an 'if', having our 'stuff' organized and a pocket or smartphone full of emergency resources is essential.
Get a secure app like 1Password or something similar that allows you to not only keep your id and passwords but also the ids and passwords of those you care for. These apps often include an area for secure notes so you can include things like:

social security numbers
state driver's license or identification number
health insurance card information
voter registration
credit card numbers
wifi passwords
passport information
Facebook or other social media ids and password

Signup for Amazon Prime. Maybe your caree will sponsor the annual fee if you are doing the majority of their shopping. Not only will you get free shipping but you get your products in two days by default but items can be there much quicker for an extra fee.
Signup for an online shopping delivery service. One I have used is Instacart for local deliveries. I ordered personal care items for my mom and within just an hour or two they were delivered to her door.
Keep a list of your caree's medical and financial information accessible. Go check out this post where my sister Susie shares her amazing binder system! Maybe even make some extra copies of some things like the medication list so you can hand them out to intake nurses.
If traveling or frequent trips to a hospital are a way of life for you, create a packing list of everything your caree will need to be comfortable.
If you are a working caregiver…take steps to be ready to work remotely whenever. Take your laptop home each night (or request to switch to a laptop), have extra computer and smartphone charger on hand, and keep all work documents on a shared drive that you can access from anywhere.
Document your caree's daily schedule or careplan. Recently, I flew up and spent 4 days caring for my mom so my sister could have a break and these three sheets she typed up and put in page protectors for me were essential. If you don't have this yet, start to create one by jotting down notes as you go throughout your day and then expand upon it when  you have a few minutes. The key to a great careplan is to be your voice of instructions when you can't be there. The document needs to include times, instructions on where things are, and little nuances that you do or say to your caree to make the day a success. No detail is too small. It's a win-win for someone coming in to take your spot to have a great day. If your caree is happy with the care others are providing, you'll have more freedom  to leave the house to recharge.
Keep a list of contacts and phone numbers of friends & family as well as family caregiver respite services you can call when you need extra help. Ask your caree's doctors for suggestions or other family caregivers in your area. If you work for a large employer, your Employee Assistance Program can provide options as well.
I hope these eight organization tips will help your next caregiving crisis flow just a little bit better. I also encourage you to continue to add to this list by sharing your organization tips in the comments. You all teach me so much every day!
For more specific coaching and support about your specific caregiving situation, join the Happy Healthy Caregiver Community where there is a group of family caregivers who totally get what you are going through and I'm in the Community daily! We all need each other. Click here or the image below for more information.