A guest post written for Happy Healthy Caregiver by Angel Carers.
Caring for someone living with dementia can be a challenge – it's a complex condition that can often be difficult to understand. People with dementia often have memory problems, mood swings, anxiety and can often feel isolated. Whether you're caring full-time for someone with dementia, or a few days a week, the following tips may make dementia care just a little bit easier.
Learn How To Communicate
When administering dementia care, be mindful as to how you're communicating with the person with dementia. It's important to ensure that they understand exactly what you're telling them, especially as people with dementia often have a limited attention span. There are a few things you can do to engage with them, including:
Adopting positive body language
Talk in a pleasant, respectful manner
Exaggerate your facial expressions
Adopt a positive, upbeat tone of voice
Use physical touch to help you to convey your message
Turn off any background noise, such as radios and televisions
Address your patient by name
Maintain eye contact
Ensure you are on the same level as them – if they are sitting down, it's best if you sit, too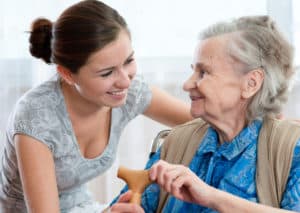 As well as using body language and simple communication methods to engage with them, be mindful of how you construct your sentences. It's advisable to use short and simple words and sentences with dementia patients. This will help them to retain the information you're telling them a little better, making it easier for them to understand exactly what you're saying. Ask easy, answerable questions. Try to avoid asking open-ended questions and, where possible, include visual prompts to make your questions a little easier to understand.
Look After Yourself Too
If you are providing the dementia care, it's important you're looking out for yourself, too. Caring for someone with dementia is a big commitment and it's easy to become overwhelmed and forget to look after yourself.
It's important to establish your limits and remember that you're only one person and there's only so much you can do. Whether you seek the assistance of at-home professionals a few times a week, or share out the key responsibilities with other family members – it's important for your own well being that you don't take too much on.
Try to prioritize your tasks when you're caring for someone with dementia. This will help you to complete the most important tasks, such as hospital appointments, grocery shopping and cleaning. It will also help you avoid getting too stressed out over the smaller, insignificant tasks and provide your care recipient with the best care possible.
If you're feeling stressed and overwhelmed, you can take a few steps to make caregiving just that little bit easier:
Always make sure you've got someone to talk to
Don't be afraid to ask for help
Talk to other carers and read forums
Don't dwell on the bad days
Take some time for yourself
Make sure you're getting sufficient sleep
Continue to take part in your favorite activities
As much as you want to make sure that your loved one is well-cared for around the clock, it's imperative that your own health doesn't suffer in the process.
Minimize Wandering
It's common for people with dementia to wander aimlessly, often putting themselves in danger in the process. There are a number of reasons why people with dementia wander, including:
Boredom
Confusion
Changes in medication
Hunger
Fulfilling a need to exercise
Anxiety
Restlessness
It can be a worrying time for a caregiver when someone under their care wanders off on their own. There are a few steps which can be taken to lessen the chance of them walking off and help you to deal with the behavior.
Many people with dementia can become bored and restless with their daily routine, especially if there's a distinct lack of physical exercise. As a caregiver, try to ensure that they are getting sufficient exercise throughout the day to help them to avoid feeling restless and bored. It might also be worth providing the person with dementia with things to keep them mentally engaged, such as new activities.
Sometimes, people with dementia can wander when they are in new surroundings. Unfamiliar places can trigger unnerving feelings of uncertainty in people with dementia, causing them to wander in search of more familiar surroundings. If you're caring for someone with dementia who has recently moved into new surroundings, it's important to keep an eye on them to ensure they stay safe and feel settled.
If wandering is becoming more and more frequent with the person you're caring for and you're unable to identify the cause, it might be time to put a few extra safety measures in place, including:
Install new locks or door chains to make it more difficult for them to just walk out of the house. Placing locks above eye level can deter someone with dementia from leaving
Install a home security system or door alarm
Put items such as coats, keys and glasses out of site
Add 'child-safe' covers to door handles
Get an identification band for them to wear in case they go missing
Ask your neighbours to let you know if they see your loved one wandering about
Ensure They Are Getting The Right Nutrients
People with dementia can often forget to eat and drink, so, as their caregiver, it's important to ensure that they're getting the right nutrition. Although it's not always the case, many people with dementia suffer from weight loss and poor nutrition. Whether this is down to a lack of appetite, forgetting to eat or difficulty eating certain foods – it's an important issue to address in order to keep your loved one healthy.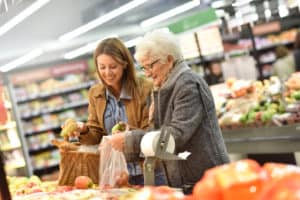 A healthy, balanced diet is an integral part of healthy brain function and general vitality. A good diet can improve a person's quality of life, making them feel more energetic, healthy and happy. When somebody with dementia isn't receiving the right nutrition, they can become lethargic, be prone to headaches and it can also lead to increased confusion.
If your loved one is stubborn when it comes to eating meals, try to provide them with nutritious foods little and often throughout the day. Try to schedule meal times and snack times for the same time each day so that your loved one can anticipate when it's time to eat.
When preparing the food, it's important to keep your loved one in mind and assess what they're able to eat and what they enjoy eating. If they have dentures, or struggle to chew hard foods, then try to prepare easy-to-eat, soft foods for them.
Caring for someone with dementia can be a challenge and an incredible learning curve and no two days will be the same. It's important to take each day as it comes and avoid dwelling on anything that goes wrong.
About The Author: Angel Carers pride themselves on their standard of care, offering a range of at-home services to allow you to stay in the comfort of your own home. From 24-hour live-in care to hospital discharge care, Angel Carers are there to make your lives just that little bit easier.