Have you created a bucket list? In this post,  I'm going to share mine with you.  It's my '50 before 50′ bucket list.
So often I see caregivers put aside all their own dreams and goals in order to care for others.  I know their heart is in the right place when they make this either conscious or subconscious choice. We all have to do this from time to time in an urgent short-term situation. Caregiving is a marathon not a sprint. There is no way to know as caregivers how much energy we need to sustain and how much damage we are doing to our own physical and mental health by pushing this aside until 'later' or 'someday'.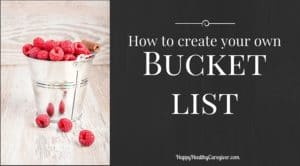 Creating a bucket list is a fun way to focus the attention back on ourselves. Let's be 'goal diggers'! What do we want to do, be, and have? Where do we want to go?
My 50 before 50 bucket list
I originally compiled this '50 before 50′ list on my road trips to and from my parent's home. Each trip I had a total of 12 hours alone in the car to process what was going on with my parent's health and my caregiving responsibilities.  As a respite from these emotional topics, I would dream about what I wanted for my life and use the voice feature to record them in a note on my iphone.
1. Give blood (complete!)
2. Be up to date on scrapbooks
3. Shoot a gun (complete!)
4. Scuba dive
5. Complete sprint triathlon or duathon
6. Go on a Mission trip
7. Volunteer as family
8. Europe family trip (complete! We went to Italy and Ireland!)
9. Ride bike around Hubbard lake (completed with my sister in 2016)
10. Update our will (complete!)
11. Start a blog that matters (did this!)
12. Read/listen to 200 books (I'm over 1/2 way there!)
13. Be debt free
14. Achieve and maintain 18-20% body fat
15. Add on a screened in porch/remodel kitchen (Kitchen is complete!)
16. Penn State friend reunion
17. Go on the Atlanta movie tour
18. Attend Kentucky derby
19. Learn to paddle board
20. Dye hair blonde or red
21. Whiten Teeth
22. Boudoir photo shoot
23. 25th anniversary party!
24. Napa Wine tour
25. Golf with kids
26. Batting cages
27. Ride Tandem bike
28. Start a monthly supper club
29. Organize a progressive dinner
30. Read book of Proverbs and Psalms
31. Paint with my sister Susie
32. Visit Yellowstone
33. Learn to county line dance
34. Rent RV or camper for trip
35. Get a tattoo (complete!)
36. Happen upon a random small town festival
37. Install a closet organizer
38. Summer and winter vegetable garden or start a community garden
39. Ice fishing at Hubbard Lake
40. Take an art class
41. New York in December (complete!)
42. Fly first class
43. Visit Chicago or Seattle (Chicago visit complete!)
44. Couples cooking class
45. Rhine river cruise
46. Family 5k (complete!)
47. Help someone cross something off their bucket list
48. See Niagara falls
49. Revisit Honfleur and Monet's garden (with my family) (Monet's garden complete!)
50. Visit a health resort
I've completed a few of mine – thankfully, I still have a few years to go.  Even if I don't get to them all…it's something I'm striving for and will certainly cross off more of these things than if I didn't document them.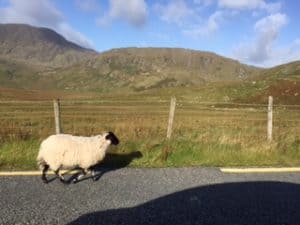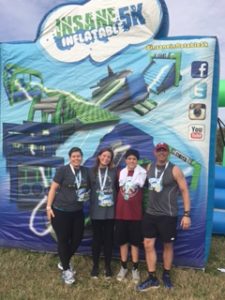 Take Action
Did anything pop into your head while reading this? Maybe as you read through my 50 before 50 list you were reminded of things you want to try or do.  Write these down either on paper or in a note on your phone.  Add to it and then when you are looking for a date night idea, vacation destination, family activity, etc.  refer to your list.