I regularly feature one-on-one conversations with a family Caregiver from either my Happy Healthy Caregiver Facebook Group or the Happy Healthy Caregiver Community. I call each of these recorded conversations a 'Caregiver Spotlight'. I started these because each caregiver journey is unique and I know every time I talk to another caregiver I learn something new and I leave that conversation knowing I'm not alone and feel encouraged by others.
Meet my caregiving friend and fellow caregiver advocate Priya Soni. Priya's caregiving experience with her dad and recently with her mom continue to shape who she is and inspired her to start a movement called The Caregiving Effect. Usually Priya highlights other family caregiver stories through The Caregiving Effect but today the Caregiver Spotlight is shining on her.
Daughter and Caregiver – Priya Soni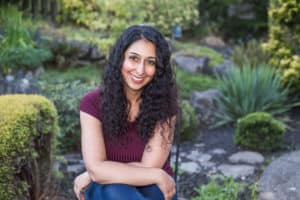 Priya grew up in Maryland with her parents and a younger sister but now lives in New York City. Her parents, originally from India, met here in the US when they were attending universities on earned scholarships. India subcultures were ingrained in Priya growing up. Her family openly discussed values, beliefs, and spirituality and stories became the preferred method to share and convey what was important to them.
Priya doesn't remember volunteering or choosing to be a Caregiver for her dad or even realizing that what she was doing was called caregiving. She was simply a daughter with a mindset that you respect your parents and help take care of your aging relatives…because that's just what you do.
It wasn't until later that Priya realized she was in fact a family Caregiver and that it was having a ripple effect on her life.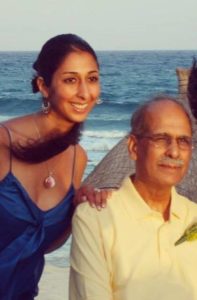 Priya's father had a neurological mystery illness that surfaced just before he intended to retire. He began walking differently. At first, Priya and her family believed her dad would recover. Priya's dad struggled with this mystery illness and gradually declined over a twelve year period. Priya explains that they experienced 'Caregiving 101' from the beginning and 'matured and coped' throughout the process. Priya's father passed away in January of 2015.
Priya and her younger sister where in their twenties and early thirties when they were caregiving for their father. They recognized that everyone around them was having a different life. While her friends where wondering where to meet up on the weekends, Priya was going with her dad on doctor's visits and taking care of some of the regular duties her dad used to be able to do.
Priya experienced three distinct versions of her dad and really three stages of loss. She made a transition from a father they knew growing up, the father with this unknown illness, and the father who was no longer physically here with them. Here's how Priya explains her understanding of grief and grieving:
Caregiving Influenced Life Decisions
A common thread with many of my Caregiver Spotlights is that the experiences we have while caregiving forever change us or opens doors to new and different paths. Priya had a similar revelation.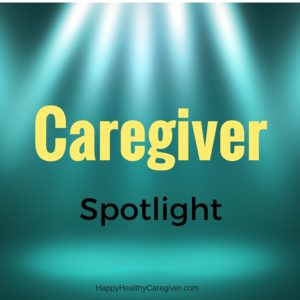 Priya's family roles of daughter and caregiver soon expanded to include instructor.
Priya's original career ambitions were to pursue acting. She received formal training in voice and speech. Little did she know she would be using these skills to help her dad. His native Indian accent paired with speech impediments due to his neurological illness made him a natural student for Priya. Through her instruction, her dad learned to articulate his speech. In his last few years, Priya taught her dad sign language.
Several of Priya's caregiving years were spent caring from a long distance which posed different challenges, especially when juggling caregiving responsibilities with a full-time job. Priya highlights the importance of having conversations with her work colleagues and her family to better understand everyone's expectations:
Priya developed a trust with her colleagues and family that she'd fulfill her responsibilities while honoring what matters most to her. Priya is mindful of balancing work, family and social. Her mom recently had a couple of falls so she is referring back to the caregiving strategies that worked for her while caring for her dad.
Self-Care is a Core Value
Recognizing the competing demands on her life, Priya is constantly looking for ways to step back and step out of life's demands and create time to just breathe. Self-care is a core value for Priya and because it's a core value she creates time for it.
Here are Priya's three regular self-care outlets:
Her Tribe – Priya chooses those she surrounds herself wisely. She looks for people who share her core values and tunes in to how people are talking and the topics they are talking about. Priya calls her chosen friends & family her 'lifeline'.
Health & Well being – Priya gets herself to the gym several times  week and enjoys walking around NYC
Meditation – Even if she only has five minutes, she makes time to meditate. She says this is vital to "allow noise to drift to the side and allow calm to come into her center."
I'm curious how people practice meditation so we talked about this and I asked her to share her tips for beginners. She suggests taking small steps to start. Maybe just two minutes with a YouTube meditation video or some meditation music. Or to try a guided meditation app. Once you find a method and time of day that works, you can begin to increase your meditation time to 10 or 20 minutes a day. Priya says even if you are just thinking about meditating – you should try it – listen to your body and follow its cues.
The messages of Happy Healthy Caregiver resonates with Priya. I liked her full package definition of what she sees as a Happy Healthy Caregiver:
She said that while the care won't necessarily be equally distributed, Caregivers need to be mindful to give care back to themselves as they are giving care out to others.
Take Action
Priya and I are taking our own action by further expanding our caregiving knowledge. We are actively taking a nine week course to become Certified Caregiving Consultants.
If you would like to connect with Priya, you can find her on Facebook and Instagram. You can also learn more about The Caregiving Effect by clicking here. On Priya's site you'll find support, resources and access to her three sessions program.
Like all the Caregiver Spotlights, the full conversation is only found in the private Happy Healthy Caregiver Community. Priya & I discussed several other topics that aren't touched on in this post, including:
What we liked about the National Caregiving Conference in Chicago
Her  mindset of giving herself a break
How Priya, her mom, and her sister became a caregiving team and divided up the roles
Importance of flexibility at work and how she juggles caregiving with her career
Law of attraction and the power of our thoughts & words we are sharing with others
Self-forgiveness
Caring for her mom after a couple falls
Fun lightning round of Priya's happy & healthy tips
How The Caregiver Effect got started & more about her coaching & mentor-ship opportunities
---
Are you wondering how to even begin starting to take care of you? If you are looking for a place to connect and gain practical self-care training and support, click the image below to find out how you can join the Happy Healthy Caregiver Community.