I like to regularly feature one-on-one conversations with a family Caregiver from either my Happy Healthy Caregiver Facebook Group or the Happy Healthy Caregiver Community. I call each of these recorded conversations a 'Caregiver Spotlight'. I started these because each caregiver journey is unique and I know every time I talk to another caregiver I learn something new and I leave that conversation knowing I'm not alone and feel encouraged by others.
Meet Creative Family Caregiver – Carole Brecht
Carole Brecht's first exposure to family caregiving occurred when she had just closed her art gallery and was planning to secure a job in her industry. Her dad worked full-time and her mom had been diagnosed with Alzheimer's disease. Carole had the time to step up as the daughter to help, not even knowing what a Caregiver was, nor hearing the word Caregiver until the end of her journey. She just knew her mom needed assistance with daily tasks and transportation and advocacy at her doctor appointments. Like many of us, Carole had no formal training in caregiving and learned as she went. Her caregiving journey with her mom lasted  several years until her mom passed away two years ago. During this time, Carole didn't have a support system. She felt caregiving was a lonely, isolating journey that caused her to withdraw. Carole is currently her father's Caregiver.
Caregiving took Carole down a path she didn't anticipate. Her personal experiences inspired her to explore two positive, creative outlets: Zentangle art and writing.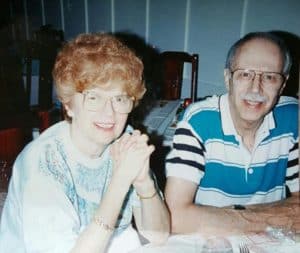 Carole's Creative Outlet #1: Zentangle Inspired Art
Back in the summer of 2014, during her mom's late stage of Alzheimer's, Carole was drawn to an abstract image of art she admired. The form of abstract art she later learned was called 'Zentange' and prompted her to learn this art form with her sister Jan.
This is what Carole loves about Zentangle:
Carole and her sister Jan created an online shop called Tangled Art Boutique that houses 160 Zentangle designs. Each sister has their own gallery of tangles and there is a special Caregiver gallery of tangles that affirm and support Caregivers. The boutique houses a variety of different products including home decor, apparel, cell phone cases, greeting cards, tote bags, and  more. Their boutique offers fun customization features to make each purchase unique. I have one of their designs in my family room – the busy bee pillow which affirms all the hats I wear as a working family caregiver and I love the bee since it's a symbol of my maiden name 'Beighey' (pronouned Bee-hee).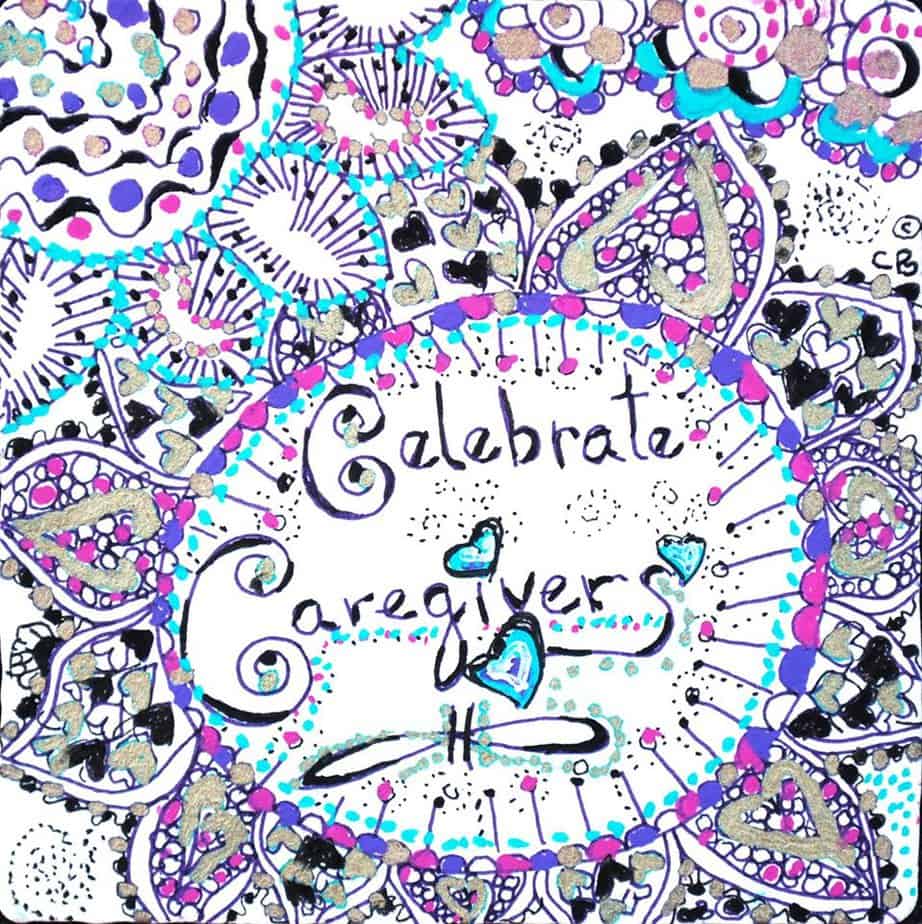 Carole encourages others to find a creative coping outlet. She says, "Anyone can Zentangle. If you can draw a line, you can Zentangle." There's a minimal investment and it's portable because the supplies can easily fit in your purse. the paper used is 3.5 x 3.5 cards and micron pens. Carole suggests checking out zentangling.com to learn more about this creative outlet.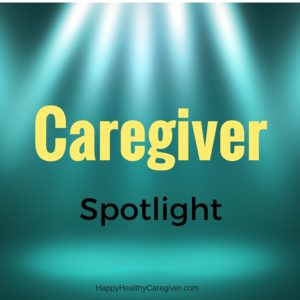 Carole's Creative Outlet #2: Writing
Two months before her mother died, Carole felt a calling to write a book for Caregivers – to let them know they were understood and not alone. Her intense passion to write her book superseded her own sorrow for her mother's imminent death. Her vision for the book was to emotionally support caregivers who felt lonely, withdrawn and isolated. At the time, she felt there were few resources to support and affirm family caregivers. While writing her book, a consultant advised her to create a blog and Facebook page to generate a community so when her book was published she'd have a captive audience.
Carole's blog is called 'SanGenWoman: The Heart of the Sandwich Generation'. She and I actually started blogging at the same time in February 2015 and our interlocking sandwich generation focus allowed us to form a new friendship online.
Carole's award winning book is called: The Artistry of Caregiving: Letters To Inspire Your Caregiver Journey. Her book contains six themed chapters containing 33 letters along with 35 Caregiver Zentangles. Carole wanted her book to be your daily companion to see you through your day.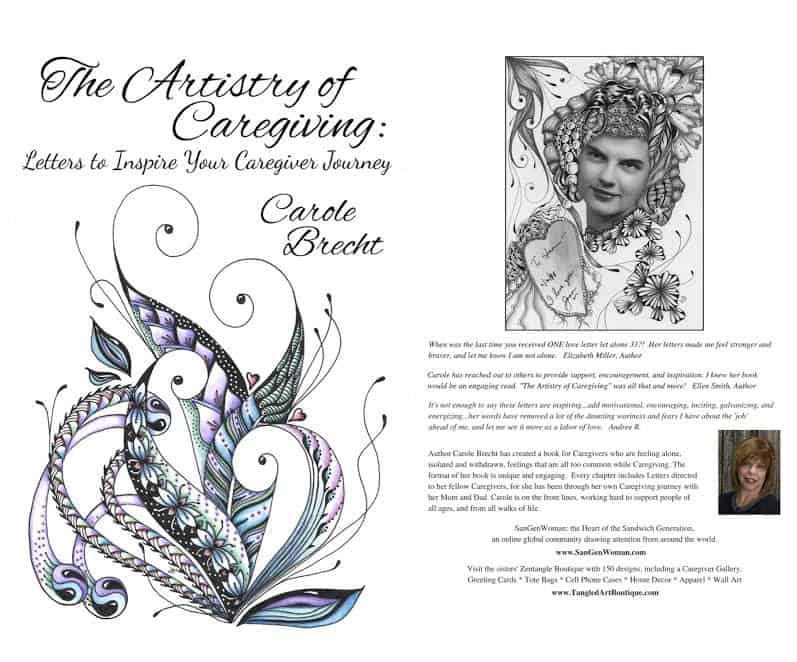 Each of the 33 letters is addressed to highlight a particular role or hat that each of us as family Caregivers wear. Some of her letter salutations include: Dear Protector, Dear Friend, Dear Hero, Dear Captain, Dear Courageous One, Dear Life Giver, Dear Nurturer, Dear Traffic Controller, and Dear Peacekeeper.
I was excited that Carole was open to reading a portion of one of her letters to you. This particular letter is called 'Dear Squeezed One':
I have read Carole's book and she even put my review on the back cover. What I particularly love about the book is that it is something affirming that I can pick up and read a little every day and I find the Zentangle art throughout the book to be dynamic and colorful – a visual support system for me as a Caregiver.
Carole shared with me that this book was a true family affair. Her father was her first editor of her book. Her sister Jan designed the book cover and incorporated their mom into the Zentangle cover art. Carole recently noticed that the date of her returned book proof was dated with her mother's birthday – an affirming sign from above!
Carole confesses that looking back she realizes she experienced caregiver burnout several times and encourages other family caregivers to learn from her mistakes. Here's a few specific takeaways that she shares weaved into her definition of a 'happy healthy caregiver':
Exploring your creativity through an art form such as Zentangle or writing such as blogging or starting a book can bring balance to your life and take your mind off of the duties of caregiving.
You can learn more about Carole from her website – SanGenWoman. From her site you can connect to her blog, social channels, and her store.
Other Caregiving Topics We Covered
Carole's full practical and heart-felt full conversation can be found in the private Happy Healthy Caregiver Community. We discussed several other topics that aren't touched on in this post, such as:
The struggle with role reversal between Carole & her mom
Her suggestions on how you can begin writing your own book
The importance of emotional well being and accepting and feeding our emotions
Her future plans to support family caregivers
---
Are you getting the caregiver support you need to not feel isolated and overwhelmed? If you are looking for a place to connect and gain support, click the image below to find out more about how you can join the Happy Healthy Caregiver Community.