Each month, I have a one-on-one interview with a caregiver in the Happy Healthy Caregiver Community. I call each of these recorded conversations a 'Caregiver Spotlight'. I started these because each caregiver journey is unique and I know every time I talk to another caregiver I learn something new and I leave that conversation knowing I'm not alone and feel a little bit stronger.
Beth lives in Pittsburgh, PA area and has been caring for her 80 year old elderly aunt in her home for almost 2 years. Beth has four teenagers and says she is married to 'one of the nicest people she's ever met'.  Beth enjoys running and writing about interesting things on her 'Being Home' blog.
Beth's mother lives across the street which she says played a huge part in allowing herself to even consider taking this primary caregiver role on in the first place. In addition to her mom, Beth has lots of local support including her cousin and a doctor neighbor who willingly makes house calls.
Beth is also grateful Aunt Linda is overall pleasant, in spite of her progressing dementia and other ailments, including diabetes.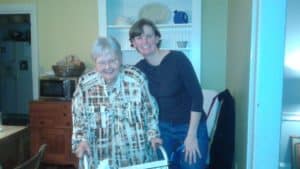 Why Beth Became a Primary Caregiver for her Aunt
Beth and her extended family had noticed Aunt Linda's health was declining each time they visited.  Aunt Linda was living independently four hours away.  Beth's family had discussed different living options with Aunt Linda over the years.  She resisted their suggestions.
The family was in a state of just waiting for an emergency phone call. Then they got one.  Aunt Linda fell out of bed which prompted a hospital visit followed by multiple weeks in a rehabilitation center. The family's initial intention was to help transition Aunt Linda, who clearly couldn't live independently anymore, to a nursing home. A nursing home that Aunt Linda herself had volunteered at for several years so they knew the inner workings and reputation of this facility.
Despite working there and knowing many of the employees, Aunt Linda recognized no one during the intake appointment.  She was unsettled so Beth offered to spend the night.
Here are Beth's words on why the nursing home wasn't going to work for them:

Coping with Perseveration
This intake experience lead to Aunt Linda moving to Pittsburgh, PA to live with Beth and her family.
Beth anticipated her new caregiving role to be physically intense.  What she has found instead is how emotionally demanding caregiving truly is.
Aunt Linda has been diagnosed by her doctor with something called 'perseveration'.
Perseverating is the uncontrollablle repetition of a particular response, such as a word, phrase, or gesture.  In Aunt Linda's case she obsesses over particular topics and it's most likely triggered by anxiety and or depression.
Medication has helped some but Beth has been challenged to find ways to cope.
I love Beth's attitude as in the interview she said that she continues to tell herself to 'expect the unexpected and take what comes'.  She definitely possesses that mindset.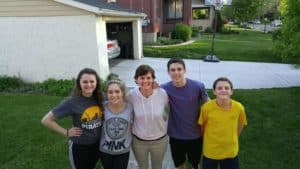 Other Caregiving and Self-care Topics We Covered
Beth's full interview can be found in the private Happy Healthy Caregiver Community. We discussed several other topics that aren't included in this post, such as:
How Beth shares the caregiving responsibilities and the basic responsibilities such as planning and preparing meals
Parallels between caring for an elderly person and an infant
How Beth coordinates respite and vacation time
Why Beth scores herself a 5 out of 10 in the area of self-care
What brings on the guilt and how she copes
Ways that Beth is continually adjusting the routine so it works for everyone
What Beth is Gaining from the Happy Healthy Caregiver Community
Beth is an active member of the private Happy Healthy Caregiver Community.  Here's what she is gaining from her membership:
I love that.  Often caregivers believe they have to devote huge chunks of time to self-care but Beth has realized that it's the small changes that can have a significant impact.
What small 'happiness hacks' are working for you?