A manifesto is a published or public declaration of intentions, core beliefs, motives or views. If you ever shop at lululemon, they put their corporate manifesto on their shopping bags.
I  was inspired to write the Happy Healthy Caregiver Manifesto after listening to Gretchen Rubin and her sister Elizabeth Craft's podcast Happier. Here's a link to Gretchen Rubin's manifesto and core beliefs. Here's a link to her Happiness Manifesto.
Once I started writing my core intentions and beliefs…I almost couldn't stop!
The Happy Healthy Caregiver Manifesto
I believe every individual's lifestyle choices impact everyone who loves them.
I know I won't find the time for my own self-care. I have to create my me time.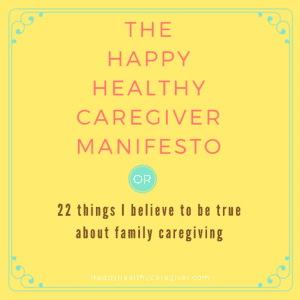 I believe we need to build up energy reserves so we are better prepared to handle the expected unexpected challenges of caregiving.
I want to spark a worldwide movement for family Caregivers to prioritize their own health & happiness…and feel good about it.
I know when I'm happy and feeling healthy, I have more of me to give to others.
I believe small actions every day accumulate into big success.
I want to hang out with positive, inspiring people who give me energy and surround myself with uplifting messages.
I have realized saying 'no' or 'not now' is a form of setting a personal boundary.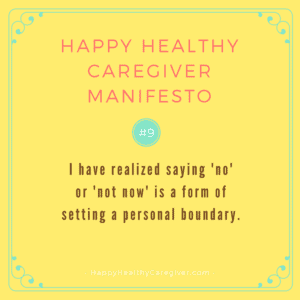 I want to seek out humor in each day and make time to laugh and have fun.
I need to share my story and shine the spotlight on other Caregivers to help humanize the face of family caregivers to our society.
Every day presents something to learn about ourselves and those around us.
I know for sure that I can't change people. I can only influence them, choose my reactions, and commit to living my best life.
I want to work on 'letting go' and learn to surrender to God so that His will is done.
I will listen to my inner voice, be aware of my limits, and be specific about how those around me can help ease my stress & anxiety.
I know that we can all achieve greatness and I choose to live a life with this mindset of abundance.
I believe as savvy family caregivers, we can have it all…just not all at once.
I believe I need to unite with other family caregivers and caregiver advocates so that our voices raise loud enough to be heard and we no longer feel isolated.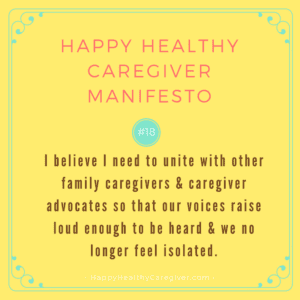 I want to do everything I can to live my best life independently so that I will not be a burden on those I love.
I wholeheartedly believe that if Caregivers isolate themselves and try to take on every task, caregiver burnout is inevitable.
I want to hone in on life's little blessings and possess an attitude of gratitude.
I know that caregiving is part of my life…but is not my entire life.
Interested in writing your own manifesto? Here's a link to a Huffington Post article to get you started.