A New YouTube Channel for Caregivers
My friend, fellow global Caregiving advocate, and now YouTube channel partner Carole Brecht of SanGenWoman connected with me last fall to see if I was interested in creating an inspiring & uplifting Caregiving talk show with her on YouTube. After lots of phone and email conversations, recording nights, behind the scenes prep, and YouTube training…we are here! Launch time for the All Things Caregiving YouTube talk show!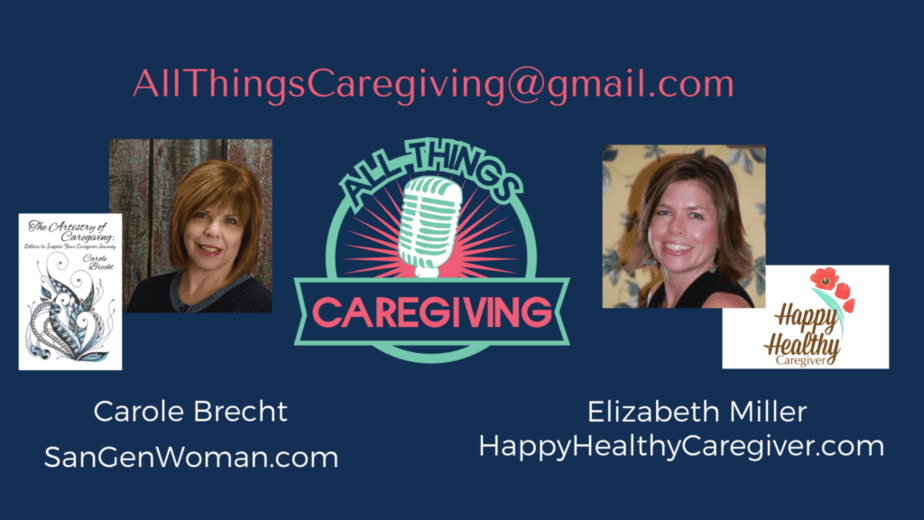 Carole & I discovered each other online over two years ago when we both launched our blogs and social platforms focused on helping and affirming family Caregivers who are in the Sandwich Generation. At the time, there were few sites out there focused on family Caregivers and we immediately identified with what we were living through in our own journeys as well as what we wanted to create online. I also featured Carole in this Caregiver Spotlight post.
Our Mission Statement
All Things Caregiving is a weekly YouTube talk show, hosted by Carole Brecht and Elizabeth Miller. This lively and inspiring Caregiver show will help you live your best life as you navigate the emotional journey of caring for a loved one.

We also created this intro video to help give you a sense of what we want ATC to be and how it will benefit family Caregivers across the globe.

 

Carole & I are the first to admit we are no YouTube or talk show professionals so even just getting this intro video to this point took multiple tries. This fun blooper video gives you some insight into our evolution of creating the intro video. It's been a labor of love these past few months!

I hope that made you smile or laugh.

We didn't want to launch the All Things Caregiving YouTube Channel without having some content out there. So we practiced and recorded four shows to give you a taste of the ATC show. We know we'll get more polished and better at this over time just as we have with our writing and social media for our own individual platforms.
A new show every Thursday Night!
Every Thursday night at 7:30 EST we'll be sharing a new show on our ATC YouTube Channel. Our next scheduled show is this Thursday, March 2, 2017!
Be a Part of the All Things Caregiving Show
We want this to be your show. We encourage any show ideas & suggestions and we also would love to share what's working for you so we can pay it forward to other family Caregivers through our broadcasts. You can reach us at AllThingsCaregiving@gmail.com.
Carole and I also have built and continue to build an amazing network of global Caregiving advocates. Throughout our show, we'll also be sharing what our fellow global Caregiving advocates are creating and doing as well. We'll keep you updated on National events and share new ideas, products, and tools we come across.
Take Action
So what are you waiting for?! Click here to check out the new All Things Caregiving YouTube channel! While you are there, click the pink Subscribe button on the top right of the channel page so that you'll receive notifications when a new show is available to watch.
Then, share this post with your friends & family so they know about the show! People's lives are changing all the time. Overnight, someone we know becomes a family Caregiver and often these individuals don't even know they are Caregivers so we have to tell them! They just think that they are doing their daughter, spouse, or sibling duty. We know that this role is all encompassing – emotionally and physically. Together we are stronger! So please 'share the care'!
And…don't forget to tune weekly on YouTube to see the new All Things Caregiving show!