A guest post written by Jess McLean
I am huge into cooking, and as a caregiver for my mom who has dysphagia (trouble swallowing), cooking and coming up with interesting new meals she can eat and enjoy has become a big part of my caregiving life.
One thing that seems to translate from caregiver to caregiver no matter your situation or caree condition is simply finding enough time to do it all – provide care, work, cook for modified diets, manage a family, etc. When it comes to eating well and taking care of yourself, you simply don't have an hour to spend whipping up a fancy meal every day, and you certainly don't have time to succinctly measure out perfect portions and measurements for a long, complicated recipe.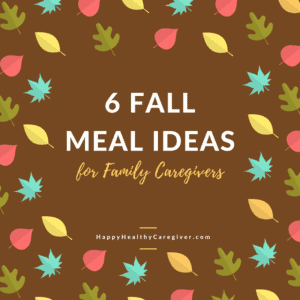 While fall might seem all apple cider and pumpkin spice, there are so many wonderful fruits and vegetables up for harvest that you'll truly enjoy incorporating into yours and your loved one's food. Fall staples include:
Winter squash (acorn, butternut, etc)
Sweet potatoes
Cauliflower
Dark leafy greens (kale, spinach, etc)
Fennel
Apples and pears
Carrots and parsnips
Brussel sprouts and cabbage
Beets
Pumpkin
With the trappings of a bountiful and beautiful autumn upon us, I wanted to share a few quick fall-inspired recipes that might add a little spice and flare to your everyday meal plan. Forget the measuring cups and just bring your appetite:
Fast Fall Oatmeals
Quick oats make for a great breakfast – filling, good for you, and fast. "Fall-ify" your quick oats in the morning by simply adding some favored fall fruits!
Apple pie oatmeal: Toss in diced granny smith apples, a pinch of cinnamon and nutmeg, and maple syrup while your oats cook.
Fig and walnut oatmeal: Toss in fresh fig quarters with honey while your oats cook and top with toasted walnuts.
Pear and brown sugar: Caramelize pear slices in butter, brown sugar, and a splash of lemon juice and stir into your cooked quick oats.
Sweet Potato & Sage Soup
One of my favorite fall combos (well really anytime combo) is sweet potato and sage, and this meal idea takes the cake . . . well soup:
Saute a small amount of carrots (or parsnips) and white onions in olive oil, and while they become tender, toss sliced sweet potato (I go for a whole one!) in a bowl of water in the microwave and cook on high until you are able to mash it with a fork.
Once the sweet potato becomes soft, mash it up with a fork or masher and add to your carrots and onions, toss in your sage (as much as you want!) and cook together for a few minutes before adding a little broth (veggie or chicken) and simmering for 10 minutes.
Blend together with a tablespoon or two of butter, a pinch of salt, and a drizzle of honey.
*Bonus: This recipe is perfect for aging loved ones with dysphagia.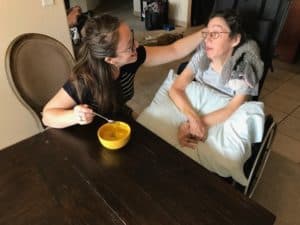 Cauliflower Sandwich
This open-faced delight is a fun lunch play on a philly cheese steak, and it's super simple!
Begin by roasting cauliflower florets drizzled with olive oil in the oven at 425 degrees Fahrenheit until tender.
Meanwhile, saute sliced green bell pepper and sweet onion in olive oil until the onions start becoming translucent, then throw on some minced garlic and cook for another few minutes or so.
When everything is ready, toss together the onions and peppers with the cauliflower in a bowl with some worcestershire sauce. Place portions of the mixture on top of thick slices of whole grain or sourdough bread. Top with grated cheese (i.e. mozzarella, asiago, manchego, or pepper jack) and pop back in the over for a quick melt.
Acorn Squash Milkshake
Looking for a quick dessert that isn't horrible for you and will give you that nutty fall feeling? Squash and ice cream?! Am I crazy? Trust me on this one.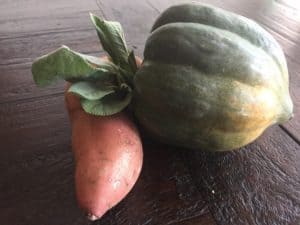 Roast wedges of acorn squash with a drizzle of olive oil and pinch of salt until tender. Remove from oven when ready and place in bowl in fridge to cool down.
When cool, throw into a blender with vanilla ice cream and a banana, blend until smooth.
Kale & Sweet Potato Salad
This is one of my go-to salad options because it is delicious and super healthy!
Roast diced sweet potato in the oven at 425 until tender.
Simmer sliced red onion with a dash of sugar, water, and a few splashes of red wine vinegar until translucent, and set aside.
Massage kale to break up some of the fibers with your hands, then combine with sweet potato and cooled onion.
Toss with pistachios, soft cheese (feta, pepper jack cubes, etc), and mint – and enjoy!
Figgy Grilled Cheese
Take your plain ol' grilled cheese to the next level with figs and shallots!
Saute fresh or dried figs sliced thin in olive oil with shallots (or any purple onion) until soft, oozy, and aromatic (crack a little fresh pepper on those babies).
Prepare your grilled cheese by taking two nice thick pieces of whole grain bread, slathering whole grain mustard on both insides, lying on your choice of cheese (cheddar, gouda, etc), topping with the fig and onion mixture and closing.
Place in a pan with oil or butter on medium-low heat and cover. Wait for cheese to begin melting then flip and cover again for another couple minutes.
Ok that last one isn't the healthiest, but with whole grain bread and not going too wild with your cheese, you should be ok!
What are your fave fall foods and meals to eat?
Jess McLean is a full-time caregiver for her Mom who has Primary Progressive MS and Epilepsy. Moonlighting as a freelance writer with a passion for cooking, Jess lives in Austin, TX with her wonderful husband and Mom. You can find her blogging about caregiving tips, ideas, and solutions at Givea.Care.
---