Before we wrap up 2017 and put a bow on it, I like to reflect back on what worked in 2017. Last year was the first year I wrote a wrap-up post. Two years in a row makes it a tradition, right?
Reflecting on 2017 helps me focus on what is good with Happy Healthy Caregiver and savor the journey. My natural tendency is to just keep taking action but I'm forcing myself to…
Pause.
Be grateful.
Recognize the consistent work.
Savor the memories.
So let's get to it!
What Worked for Happy Healthy Caregiver in 2017
In January, I kicked off the first of 11 Atlanta Daughterhood Circle monthly meetups – one of the most memorable is when we tried 'Laughter Yoga/Laughter Exercise'. We all left a bit happier!
Completed all my training to become a Certified Caregiving Consultant. Thrilled to now be able to offer Consulting packages to help family caregivers integrate caregiving with their lives. (P.S. if you are considering becoming a CCC, use my personal code 'ELIZABETH' to save 20%). One of the requirements to complete my certification was to hold an online webinar. I chose the topic of "Finding Time for What You Love." The recording is available here.
Earlier this year, I hit the 1K milestone for followers on the Happy Healthy Facebook Fan Page – now we are and close to 1.5K!
I love to spread the mission of Happy Healthy Caregiver and was asked to be a featured guest on some of my favorite podcasts including: Tenacious Talks, Today on Your Caregiving Journey, Healing Ties, Self Care with Gracy, and The After Life.
The Happy Healthy Caregiver Blog was nominated for receiving the WeGo Health Award for  'Best in Show: Blog'.
I was elated this summer when my caregiving story was featured in Women's Day Magazine and a local magazine called Cobb Life included a feature in the Health & Wellness section of their November issue.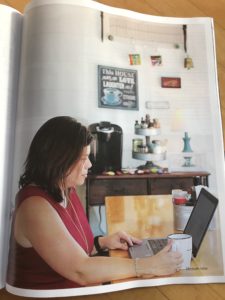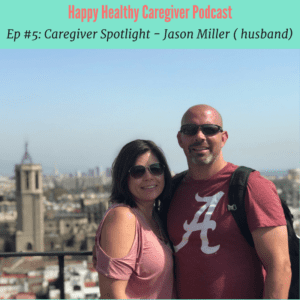 I spoke at November's National Caregiving Conference in Chicago and shared two separate interactive presentations: "Be Bold with Your Time" and "Be Loud and Proud about Your Caregiving Business.
I always like to look back and see what were the top blog posts for the year. For 2017, the three most visited posts were:
20 Happy & Healthy Songs for your Workout Playlist
6 Behaviors To Cultivate A Mindset Of Abundance While Caregiving
5 Ways for Caregivers to Save Time and Minimize Stress
I expanded my speaking and consulting services to also include freelance writing for companies who are in search for content related to caregiving, self-care, and living a happy and healthy life. Contact me if you are interested in partnering with me.
To wrap up the year, Happy Healthy Caregiver received a fabulous surprise by being ranked #4 in the Top 50 Caregiver Blogs by Feedspot!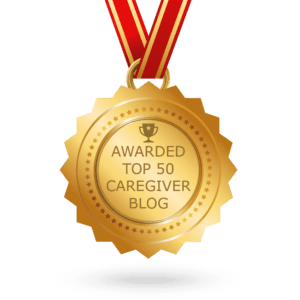 What Worked for the Millers in 2017
I got inspired by a documentary about minimalism and drastically simplified my wardrobe. Almost a year later, my closet is still looking pretty streamlined. You can read  more about this here.
Natalie visited Nicaragua in February with her church youth group. She has been to the same area three times so has gotten to know the local families. These trips have inspired her to continue on with learning Spanish and has a future goal to work internationally in the medicine field. Excited that both of my kids will be headed to Nicaragua in 2018.
We completed our major kitchen renovation. It took probably 3 months but it was well worth the mess and disruption. Check out the before and after pictures here.
Natalie started her senior year of high school this fall. We visited many colleges on Natalie's list this summer and she has been accepted to many of her top choices for colleges with nursing schools.
We made amazing memories on our big family vacation this year to Barcelona and Paris. The past few years we have chosen to spend money on making memories versus having piles of holiday gifts.
Jacob has ran probably hundreds of miles this year. His sports are Track and Cross Country. He also received his learner's permit and has been doing much driving around our area…we've all been dragging our feet to get him on the highway but this needs to happen.
Mom is thriving living with my sister Susie..and Susie is doing great, too! They both moved to Michigan this fall to live permanently in what has traditionally been my parent's summer home.
I'm continuing to work my way through my '50 before 50 Bucket List'. Just a few things got checked off in 2017 including the kitchen remodel, visit Monet's Garden with my family, and get a tattoo!
Over-achieved my Goodreads book goal thanks to expanding my 'reading time' with Audible. I read 41 books in 2017! You can see my Goodreads Year in Books here.
So…I want to know. What worked for you in 2017? Share what's good.