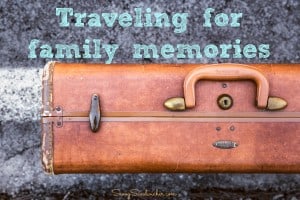 Early in our marriage, may be even before we were married, Jason and I had agreed that we would always use some of our time off to have our own vacation.  Coming from a big family, there are always events and family reunions to attend but it was important to us that we set aside focused family time together each year.  Before our children were part of our lives, we took some special trips to New York City, California and Grand Cayman.  Not to mention our honeymoon in Bermuda.
Traveling with young children
Once we had our children our vacations primarily centered on trips to visit family.  Every summer, we have been to our family cabin in Hubbard Lake, Michigan and there have been several visits to Florida, Pennsylvania, Phoenix, and Washington D.C. areas to see my parents and our siblings.  One exception to the normal trips is when we jumped on an opportunity when Natalie was 10 months old to go see my sister Susie and her family in Botley, England.  Her husband Dave was there for a 2 year assignment and it was Susie's 40th birthday and we were missing their 4 kids since they had moved away.  They had been in England long enough to show us all the local sites they loved.  Susie kept Natalie one day when we visited so Jason and I could take the train into London for a day on our own.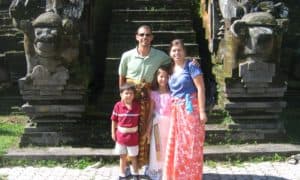 Our first big international trip as a family was BIG!  In June 2007, the four of us went to Bali, Indonesia.  Jason's dad and stepmom 'sponsored' this probably once-in-a-lifetime trip for us – our first time to Asia and Jacob's first time out of the country.  Jason has an uncle that has lived almost his entire adult life in Bali and his dad and stepmom fell in love with it during a visit and built a villa over there, complete with a house staff.  The travel time to get to Bali was about 28 hours.  The kids did great on the flights as they just curled up in their seats to sleep and watched movies when they were awake – plus I had packed a few new travel toys that kept their interest.
We have such great memories!  Natalie fell asleep at the table during our first authentic Indonesia meal that was cooked for our first night waiting for the dessert course.  Jacob ate copious mounds of rice the entire trip.  Jason's uncle lives across from Legian beach where surfers love to go because the ocean waves are so high – great for surfers but scary for parents.  Jason and his dad took the kids in the water briefly but never let go of their hands as the undertow is strong.  The kids were also not sure what to make out of the topless ladies that were sprinkled throughout the beach.
During our visit, we had a driver take us around for a few days to see the sites such as the Batur volcano, the Monkey forest in Ubud, the Bali Bird Park, Uluwatu temple, and Nusa Dua beach.  We also got to see and experience a completely different culture.  We saw workers in the rice fields, whole families (and sometimes lumber or a basket of pigs) piled on a motorcycle, Balinese daily offerings resting outside dwellings, a Hindu wedding, a funeral procession, and we encountered lots of wild Balinese dogs that we urged our kids not to pet (unless they had a collar).  We were spoiled with cooked meals by the staff, a driver to take us around and defend us from any aggressive wild Gibbon monkeys, and our laundry pressed and wrapped in cellophane when we returned from our day. We experienced a peace and appreciation for everything like you may have read about in Eat, Pray, Love.
The Balinese are primarily Hindu.  They focus mostly on needs instead of wants and they value God and family like no culture I've ever seen.  We enjoyed our driver telling us stories about his life and family.  The Balinese appeared to be happy, even with little, and possessed a strong work ethic but with a balance of acceptance.  When we arrived back to the U.S., Jason and I experienced a little depression wondering why in America we crave the 'rat race'.  We had gotten a taste of a better alternative lifestyle but sadly it took just a few weeks before we found ourselves falling back into our crazy overscheduled lives.
Beware of the travel bug
Our trip to Bali was probably the first time as a family we were bitten by the travel bug.  We knew we wanted more of these family adventures.  Our Spring Break trip in 2010 to Phoenix and the Grand Canyon was the first adventure vacation that the four of us took as a family that just seemed easy.  I remember a vivid feeling on this trip that our kids were finally at the ages where they understood the joys of exploring new places and at the same time it wasn't a total drain on mom and dad.  Jacob was 8 and Natalie was 10.  The kids could entertain themselves, carry their own water bottles, dress and feed themselves, walk for long distances, and get by without an afternoon nap.  Travel life was good.
Traveling with other families
Thankfully, we have friends with kids that love to travel, too.  One of the groomsmen in our wedding, Tripp and his New England Patriot loving wife Deborah, organized a trip to celebrate their 40th birthdays in the Dominican Republic.  They invited their close friends and family and they paid for the house for the week for all of us.  'House' is really an understatement.  This place was perfect for our large group.  It had 13 bedrooms, sat directly off the beach, had an infinity pool, and was tucked back in a gated community.
They had a house staff that cooked all our meals and cleaned up after all of us.  We even had an affordable masseuse that came onsite!  The kids all played together and had a great time.  We ventured out for a few day trips to snorkel, ride horseback to see the Limon waterfall, or go shopping in the closest town, Las Terrenas.  Having a separate room from the kids during this trip was like a second honeymoon.  I was addicted to reading the Fifty Shades of Grey series.  Jason calls these books the best books he 'never' read.
Alternative holiday gifts for teenagers
Once Natalie became a freshman in high school, it hit us that our days of family vacations may be dwindling.  Eventually our kids will go off to college, work summer jobs, be preoccupied by significant others they can't live without, and start their own careers.  We want to make the most of the years we still have together as a family where we control the calendar (for the most part – those sports definitely start to take over family free time!).  All Jason had to say to me in early 2014 was 'let's go to Europe this year'.  Jason had never been to mainland Europe but had heard me talk much about it.  After college, I backpacked with two girlfriends and we visited 13 countries in 9 weeks so I got a great taste of Western Europe.  One of the smartest things I ever did!  I love Europe and would go back to every place I visited then and yet still have many new places I want to visit.
While the four of us brainstormed different European destinations we would love to go to, we knew we had to find the right travel deal.  Part of the fun was waiting to see just the right deal pop up.  I subscribe to Travel Zoo's Top 20 weekly newsletter.  In February, I saw the deal!  It was a 10 day trip to Italy!  Four nights in Rome, three in Florence, and two in Venice.  We decided to go over the Thanksgiving week break and that this would be our Christmas/Hannukah gift.  The $6,0000 deal included airfare for 4 (one connection in Germany), 9 nights for 2 hotel rooms, train connections, and a few hop on/hop off bus tours.  We had 9 months to anticipate the trip (which is also part of the fun) and pay for it and save up spending money while we were there.  One night about a month before our trip, we had an Italian themed dinner at home and got our smartphones and travel books out and made notes about what attractions we wanted to be sure to see in each city.  While we were in Italy, I created a simple blog for our trip – my test to see if blogging would be something I'd like to do long term and also to create a digital scrapbook of our trip.  Here's the blog if you want to get the entire scoop on our Italy trip.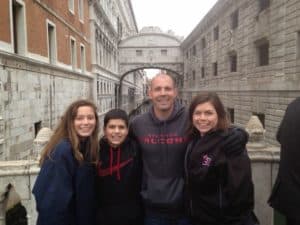 We talked at length with the kids to see if they felt this trip was better than any material holiday gift they would get from us.  We told them that Christmas would still be special, it just would be economical and different.  We spent Christmas that year playing games, going to see a movie, and chilling with family and friends.  I surprised them all with a homemade iMovie of our Italy trip photos complete with Griswold vacation theme music – 'Holiday Road' by Lindsay Buckingham.  I had time to make the movie since I didn't have to shop and wrap!  Oh, and the holiday shopping we did for family, we did in Italy!  It was the gift that gave me the gift of time during the entire holiday season.
A couple weeks after the holiday was over, we started looking for another great deal for our 2015 trip.  We scooped up an Ireland offer we saw on Travelzoo and are headed there over the kid's upcoming fall break!  On this trip, we are flying roundtrip to Dublin and we have a car rental with Wi-Fi so that we can use our smartphones to navigate.  We stay one night in a Dublin hotel and 5 nights in our choice of bed and breakfast venues.  Natalie planned out our route while we were driving up to Michigan this summer and I selected the bed and breakfast.  I plan to post pictures on my HappyHealthyCaregiver Instagram site while we are there if you want to follow along.  I also plan to do a recap blog post of our trip after we return.
How do you afford to travel with kids?
People often ask me how we afford to do this traveling.  My simple answer is that we have opted to spend some of our money on travel versus saving these funds.  None of these trips are Dave Ramsey Financial Peace University approved trips.  Jason and I took FPU as students and facilitated this course a second time and do believe in the program but don't follow it to a T.  After several years, we are still on baby step 2 of Dave Ramsey's plan – pay off all debt but the house.
Do we wish sometimes that we had more saved for our retirement and have a college savings set aside for the kids?  Absolutely.  But…would we sacrifice these memories and experiences in order to have this financial security?  Absolutely not.  Kids grow up way too fast.  Jason and I work hard to enjoy these luxuries.  Traveling has opened our eyes to many things and cultures.
Having these family getaways where we are not influenced by the crazy pace and distractions of our day to day schedules and responsibilities is priceless.  We have no regrets about the decisions we have made to enjoy the journey.
Take action
Maybe a European family vacation isn't an option.  Start small.  Plan an economical camping weekend, snag a Groupon hotel deal or just find a fun day trip adventure.  Consider these memory making experiences as gifts for your kid's birthdays, celebrations, holiday gifts or occasional family getaways.  No matter what the price tag you spend, I promise you will return home richer.