Finding the time to take care of your own health with all the competing priorities of work, children, and an aging parent is near impossible.  There is no lost time to be found in a 'sandwiched' life.  I've experienced first-hand what happens to a mother's life (and father's too!) when you put yourself last on the priority list.  My parent's believed they gave us everything growing up – all our needs were met and many of our wants.  But because they did not prioritize their own health on their daily to-do lists, their health paid the ultimate price.  Starting in their 60's the lack of attention they gave themselves caught up to them in countless hospital visits, numerous prescription drugs, and a compromised lifestyle that caused them to be dependent on others to help care for everyday activities like cooking, showering, and running errands.  I believe that my dad would still be with us and he and my mom would be enjoying their golden years and retirement savings by traveling and having the energy to maximize each day.  Witnessing these choices, led me to wanting a different lifestyle for myself and others.
I'm writing this post from my parent's summer home in Hubbard Lake, Michigan.  We are grateful that we were able to transport my mom and my developmentally-disabled brother up here to enjoy a few weeks.  This is no easy feat and frankly my mom tried to cancel her trip.  It took us getting portable oxygen to convince her otherwise and my fear is that we have turned a new corner where now manufactured oxygen will become another dependency we need to add to a long list of daily procedures and medications that fill mom's day and limit her mobility.  We had the final memorial service for my dad up here with extended family last Saturday.  In addition to attending the memorial and seeing family, she also wanted to see the park flagpole that was donated in dad's memory.  Now that we are here, my 77 year old mom is basically housebound.  She enjoys her view of the lake and seeing the activity of her grandkids around her.  My two sisters and I have been tag teaming the daily care routines.  We also have had to coordinate the maintenance for the lake home.  Needless to say this is a different kind of 'working' vacation.  Luckily, we have a loyal family friend that not only cares for the lake home when we aren't around but has been coming to keep mom company, feed her lunch, and ensure that she can get to the bathroom without tripping on her oxygen tube.  Having this assistance allows me and my sisters to escape for a few hours guilt-free to spend time tubing with our kids or sunbathing with our cousins.  I paint this picture to you not to receive kudos for being a dutiful daughter but to encourage you to live life differently by paying your health first so that you can live your best life.  We owe it to ourselves and to our children.
My eBook " How to care for YOUR health while caring for others" (now only available in the Happy Healthy Caregiver Community) shares the tips and systems that work for me to allow me to make the time for my physical and mental health.  Without committing to these daily activities, I know my own health would be sacrificed and I would find myself repeating the path my mom unconsciously traveled.  In my eBook, I expand on my family's personal story in the Introduction and share lots of family photos.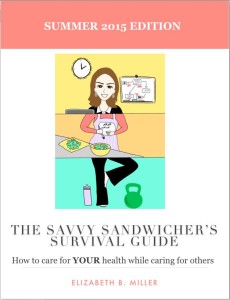 Overall wellness is fed by several channels.  I devoted a chapter in my book to each of these wellness chapters and thought I'd give you a brief summary of each chapter and the themes of nuggets you'll find.  I've written brief blog posts on these topics but the eBook expands each of these into great detail and specific do-able actions that will make a noticeable difference in your mental and physical health and diminish the feelings of caregiving resentment you may be feeling.
Chapter 1: Tried & True Time Management Techniques
In this chapter, I explain how I have been able to make time for my own health (remember you won't find it!).  I provide step-by-step instructions on how to create and maintain just one family digital calendar and access it from anywhere.  I offer tools and suggestions to reduce the current demands on your time and replace these time pockets with healthy me and family time.
Chapter 2: Be a Goal Digger
The first chapter results in making the time for your health and this chapter focuses on how to spend this time wisely.  There are a few soul-searching activities in this chapter where I ask and explain how to dream big and uncover your personal goals.  I share my specific dreams and what I call my '50 before 50' list (50 things I want to accomplish before I hit age 50) to trigger and inspire your dreams.  Once the big dreams are established, I walk you through a specific short-term fitness goal I have to walk you through an example of taking a big dream and breaking it down into daily and weekly steps.
Chapter 3: The Art of Squeezing Physical Activity in to a Busy Day
Paying your health first for me means a productive morning routine.  In this chapter I share specifics around my bedtime and morning routine.  I provide a gym bag pack list.  I explain my five sources of motivation.  During our day, we have lots of creative and sneaky ways to fit in bursts of activity such as having a walking meeting with a co-worker or doing wall squats while brushing your teeth.
Chapter 4: Providing Your Body with the Healthy Fuel it Needs
I share honestly in my eBook that nutrition is my biggest struggle area.  When life is super busy and we fall off a routine, nutrition is the area that quickly falls off track.  This chapter provides a Kitchen Purge Checklist which will reduce the temptations in your home.  Restocking your kitchen with healthy options is made easy with The Savvy Sandwicher Grocery List.  Ideas for a weekly meal planning, food preparation, on the go healthy breakfast and lunch options, and quick dinner options are also included.
Chapter 5: Prioritizing Time for Mental Growth
Caring for your mental health is just as important as your physical health.  Feelings of guilt can surface when we are enjoying ourselves instead of caregiving.  In my opinion, feeding our self-interests, even in small ways, reduces resentment and makes us better caregivers. This chapter encourages brainstorming to uncover what your interests are and offers suggestions to incorporate them into your daily schedule or to combine these activities with family or caregiving time.
Chapter 6: Enlist Your Tribe
Asking for help is necessary and vital.  There is a tribe of people available to help, particularly in your own family.  A Family Responsibilities worksheet is included to help facilitate discussion.  Level setting on expectations and defining roles helps diminish resentment and the feeling that no matter how much you do, it's never enough.  Setting boundaries with your aging parent and the siblings who help with mom or dad's care is also necessary.  Ideas to automate or outsource responsibilities are also included.
Chapter 7: Your Attitude is Contagious
Your attitude is the weapon you have in your arsenal that no one can take away from you.  Choosing a positive attitude and adding a helping of humor will navigate you through the rough patches.  We can't control other's attitudes but we can control how we react to negative situations.  This chapter also lists out 14 suggestions to reframe difficult conversations with loved ones such as politely challenging the assumptions that may be rooted from a false limiting belief.  This chapter shines light on those peaceful pockets of a busy day which will lift your spirits and includes sources of inspiration such as creating a vision board, taking time for meditation, and surrounding yourself with people who lift you up.
Take Action
Each of these seven chapter ends with a 'Take Action' section.  Without action, we're just talking.  Talking won't achieve the results and family harmony we are all craving.  My recommendation is that each chapter is read and action is taken before moving on to the next.
My goals for this eBook is to empower you to prioritize your own physical and mental health, arm you with the simple tools to build a healthier lifestyle, and realize the benefits of putting these systems and suggestions into practice.  Ultimately, I hope you continue to accompany me on this journey to enjoy life in the sandwich generation one healthy bite at a time.