Ask and you shall receive
Guess what I found out recently?  I can't do it all and I need to ask for help.  I think the key is to 'ask' and not 'expect' someone to know you need help.  I've definitely said to my husband a few times, 'Why do you wait until I'm spiraling to help?'  His answer is valid when he calmly says 'I didn't know you needed help'.  We think as moms we are supposed to do it all and we think other moms are successfully doing it all.  Maybe it's possible for the short distance but not for the long haul.  I'm one of 6 kids, I watched my mom work non-stop taking care of the house, kids, food, pets, etc.  I also witnessed her burning out.  My siblings and I helped around the house but maybe could have done more and in recent years my dad had admitted that he could have done more to help at home.
Did you know you have a small army of helpers around you?  Below are eight individuals or groups of people that are willing to offer a helping hand and won't think any less of you for getting their assistance.
Your Husband or Partner
I've been married 19 years so we've gotten into somewhat of a groove about where are strengths and interests are and who is better at what.  Years back though it was fuzzy sometimes and stuff would get neglected so we used to just tell each other 'You own x'.  Jason owns trash, car maintenance, yard maintenance, insurance, mortgage, and checking the kid's grades.  We have a 'choreplay' system that works for us.
I own groceries, food prep, kid party planning, child clothing needs, monthly bills, and gift buying.
We share responsibility depending upon the week for meal planning, groceries, kid transportation, and cooking.
Luckily some jobs we can outsource.  We get our house cleaned every other week and we have a neighbor mow our lawn.  We've intermittently hired help for yard work and right now I'm enjoying the paleo Fresh 'n Fit cuisine meals for breakfast and lunch.
Your Children
Our kids are expected to do regular chores like empty the dishwasher, set the table, clear the dishes, do their weekly laundry, list grocery needs, and keep their room and office spaces picked up.  We don't pay them a commission for these chores, they are just expected to do them because they live here and our part of our team.  Not only does this delegation help me out but it teaches them life skills and responsibility.  So I consider this required as part of my good parenting job.
Our children are motivated by money.  They know they can earn commission when they help with home projects like washing our cars, weeding the yard, and cleaning out the garage.
I also ask for mental help from my kids by establishing some basic ground rules like please don't ask to do something with your friends right in front of me, please don't ask me to help you with homework after 9pm and please only ask me to run errands for sports equipment or school projects on the weekends because our weeknights are hectic enough already.  Sometimes I forget the 'please' but you get the idea.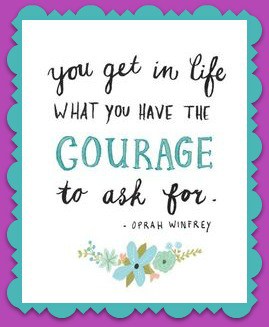 Your Co Workers
Most people are looking for an optimal work/life balance.  I specifically targeted the company I currently work for because it entailed no travel, is in close proximity to my house, and had a family friendly reputation.  I have also found that if I share with my coworkers or boss my health goals or if I state that I need to put my family first but commit to getting my job done, I receive little argument as long as I deliver on my work obligations.
Your Friends
My true friends have understood when I have been living in a season of my life where my time is maxxed out.  They have these seasons, too.  I have a great network of friends and fellow moms who unite to get it done.  We arrange carpools for our kid's activities, offer sleepovers when a date night is needed, or gather as families at the pool to have an impromptu cookout because a make shift dinner at the pool with neighbors is better than a meager meal at home.
When the swapping of kid time doesn't even out amongst friends we have found ways to barter services or repay with dinners out, etc.
Your Mom
My mom lives in an assisted living less than 30 minutes away.  While I'd love to see her more, with our busy schedules and working full time, I have set an expectation with her that I can only visit with her about once a week.  This was especially tough after my dad passed last summer and she was alone and had just moved into the community.  We are still finding each other's boundaries and setting expectations at each visit.
I've been encouraging mom to take on as much as she can handle and really help herself when possible.  This isn't to be mean but to keep her sharp and engaged in life.  In particular, I have asked that she talk directly to her caregiving team about her wants and needs and to advocate for her own health.  This keeps the family out of the middle and hopefully gives her the results she is looking for in a timely manner.  Direct conversations with caregivers is needed as this gives her empathy for their situations, allows them to set expectations with each other and hopefully resolves issues faster.
Your Siblings
My mom and my adult developmentally disabled brother require attention from my family.  They need our help and we want to help.  We take the divide and conquer approach.  We all have different strengths and some of our duties align based on where we live geographically.  My oldest brother is telecommunications and IT, he takes care of most things computer, network, and phone related.  My older sister manages the family lake properties in Michigan and handles paperwork for my developmentally disabled brother.  My other brother (I have 3), does the weekly grocery shopping for mom and takes her to the dentist.  My little sister pays all the bills.  I take mom to doctor's visits, order her supplies, and do my weekly twirls around her apartment to keep it the way she likes.  I'm grateful that we all do pitch in and help.  I know many sandwicher moms don't have this experience with their siblings.
Your Internet
I realize a lot of time savings by shopping online.  Amazon Prime is my go-to for books my kids need for school and items I don't have time to hunt around for around town.  I also use my free Prime shipping to subscribe and save on mom's personal items that she uses regularly and dog treats for Shadow.
I probably do at 65% of my shopping online.
Your God
Lastly, sometimes I forget that I need to be leaning on God for strength.  I felt like I learned rote prayers growing up but really didn't learn how to 'pray' until I was a mom.  I attended a bible study and my group taught me a simple way to pray to God using the acronym PRAY.  Praise, Repent, Ask for others, and ask for Yourself.  This gave me a formula to talk to God that made me learn to get comfortable having these direct conversations with God.
Take Action
As you can see there are helping hands and services available.  When things get difficult, I challenge myself to find an easier way.  I remind myself that someone else has had these same struggles.  How did they get through it?  What can I adjust to make life more doable?  My plea to you is to reflect as you go about your day and ask yourself if you are the ONLY person who can be doing this task.  What would happen if you asked for some help?  Savvy moms ask for help so that they can free up more time for value added activities.  This is where you gain the mental health time, the workout time, the meal prep time, and the family fun time.