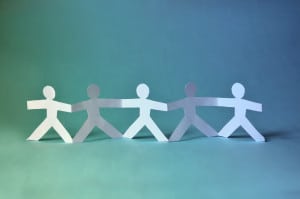 I have an older brother (brother #2 out of 3) who is developmentally disabled.  Today is his 52nd birthday and to celebrate he wanted the family to come to his regular hangout – Hooter's.  When we moved my mom to assisted living last August, brother #2 moved in with brother #3.  Brother #2 enjoys playing Bingo, watching Netflix, and frequents Hooter's several times a week.  He's like their Norm from Cheers.
My mother is still recovering from a virus, my oldest brother was traveling for work and my daughter had volleyball practice so it ended up being me, my husband, my soon to be 13 year old son, and brother #2.  We had no idea on what to expect.
The treatment we all got at Hooter's exceeded my expectations.  We were greeted warmly at the door, they had a table ready for us and I was surprised to see that brother #2 was sitting with two new friends at a high top table.  He was cute as he introduced us to all of his waitress friends and bartenders.  One of the bartenders came in on her night off for his 'party'.  After visiting through dinner, Brother #2's friend Jeff bought a round of fireball shots for all the adults except the birthday boy who wanted a shot of Amaretto and was clearly bummed when everyone's came in a tiny shot glass except his.  I tried telling him that he got a special glass because it's his birthday and he got a better pour.  He opened his gifts.  The Hooter's girls had brought him balloons, a piece of chocolate cake, a signed Hooter's t-shirt and made sure all during the night that he always had his Pepsi with grenadine.  What Brother #2 reacted to the most was the two cards he got…one from Danielle the bartender that came on her night off and one from the staff.  I've never seen someone give two greeting cards so much attention.  He said that he would keep them forever but did request that they write the date 'March 2, 2015' on each card (my mom has always dated our birthday cards).  They clearly understood that brother #2 likes things a certain way. The cards even got more reaction then the big family gift – a snazzy Garrett metal detector that he has been talking about since he fell in love with a treasure show.
On the sly, I pulled a few of the girls aside to see how brother #2 behaves there on a regular basis. Thankfully, no issues.  He is welcome there and does well.  Danielle explained that she has relatives with disabilities so she gets it.   I was slightly concerned about his behavior there because brother #2 had muttered a few times that some of the men at the bar were 'assholes' and that these women deserved some respect.  Brother #2 is functional enough to drive and care for his own basic needs.   We can't be around him all the time, we just hope and pray that when he is out and about in the world that people show compassion.
When I returned from the ladies room, I found out that Jeff picked up the entire tab!  What single guy meets a family for the first time and treats them all to another guy's birthday dinner?!?  People surprised me tonight.  It's a nice change of pace to see people just being nice to be nice and not expecting anything in return.