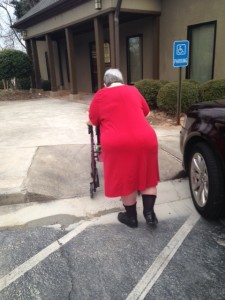 I witnessed a mini miracle this week.  It's been difficult to get mom to all the specialists she needs to see since my dad passed away seven months ago and we moved mom into her assisted living.  Hearing aids was next on the list.  Part of the reason it's been a chore to get her to her appointments is that I have a full time job and my appointments and many of my kid's appointments were set aside so we could help care for mom, dad, and my husband's mom who passed last December.  Appointments got backed up and oh by the way, I missed a ton of work.  So we slowly chip away at the list.
Mom's hearing has been really bad lately.  One of my dad's last requests of her was that she get her hearing aids checked.  She's probably had her existing ones for about 10 years.  I know they were the best at the time and they cost a pretty penny.  When someone you love can't hear what you are saying it frustrates everyone.  Mom has difficulty talking over the phone, staying awake during movies, engaging in meal conversations, and understanding her caregiver's instructions.  It impacts all relationships because the third or fourth time someone shares something it certainly doesn't come across like the first time.  This is when we get accused of being disrespectful.
I was skeptical when we went in to the ENT.  I was wrong.  I truly witnessed a mini miracle as I watched the audiologist whisper with a piece of paper in front of her face and my mom could repeat what she heard.  She could understand me from across the room in a conversational tone.  She could focus on what was being said even when a noisy game show was monopolizing the background noise.
I was surprised how these two little devices that were really barely visible behind each of her ears could improve things so drastically.  Hearing aid technology has come a LONG WAY.  It makes sense though when you think about it.  My iPhone 5c is WAY better than my iPhone 4 and that technology was greatly improved in just a few years.  We didn't even have our iPhones ten years ago!  The first iPhone was released on June 29, 2007.  Her hearing aids even have two different settings so she can push a button to filter background noise.
To enjoy this technology and all its amazing benefits you just have to come up with just over $4,000.  Luckily, mom could afford it but I'm sure there are many who cannot.  Next step is to come back for a return visit to see if any adjustments need to be made and we can pick up the special case that charges the hearing aids every night for a year…no more searching for those teeny tiny batteries.
Mom and I left the office with grins like it was Christmas.  I wonder if the Cindy the audiologist can do anything to improve mom's selective hearing?lol.