For many of us, 'the holidays' can simply mean we have even more to do than normal and the last thing any family caregiver needs is one more item on their to do list.  As the holidays grow near, I find myself reminiscing about my childhood holidays, reflecting on those simpler days when we mainly just got to show up and enjoy the fun.  I am very grateful for the wonderful family holiday memories I have.  As an adult, I realize that it was primarily my mom that worked so hard to make holidays special for us.  She trimmed every corner of the house, planned and prepared every meal, and shopped and wrapped for every gift (including Santa gifts and stocking stuffers!).  We would have 'stacks' of presents beautifully tied with ribbons and all six of us would have the same amount of gifts to open.  I have just two kids and it's difficult to ensure that everything is fair and equal.  I'm sure my mom and dad collaborated on the budget but I'm also fairly certain that my mom went over budget every year.  Let's just say I also have some memories of my dad paying the bills in January.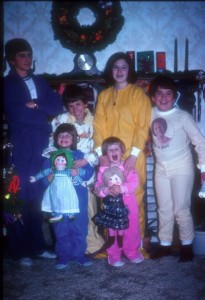 While I'm appreciative of my holiday pasts, I also know that in this season of life that I'm in as a working family caregiver, I can't expect to pull this level of holiday detail and effort off for my family and still maintain my own health and sanity.  While my mom worked tirelessly to create a Waltons-like family holiday, I believe my family paid a price for this eventually.  My mom burned out from making our holidays happen and her personal health suffered.  Now, as a 78 year old grandmother, even plans to physically get mom over to my house to spend a holiday meal with some of her kids and grandkids is a difficult undertaking.
Each year, I'm working to balance keeping our family holidays merry and bright with keeping myself sane and on Santa's 'nice' list.  Below are some suggestions that I have either used or collected that may help you strike a happy balance this year.
Holiday Decorating
Buy a few natural wreaths and a fresh tree.  When it's time to clean up, just throw them away.
Since the kids are on school break and their sports schedules aren't as hectic, enlist their help decking the halls.
Make holiday decorating part of the festivities!  Have a tree trimming gathering.
Resist the urge to buy new decorations.  The more you buy, the more you have to arrange and eventually pack and store.
Holiday Shopping
When my kids were young, I'd ask them to write their letters to Santa around Thanksgiving.  I let them know they could ask for 3 things (and live animals weren't allowed because Santa couldn't travel with them).  I equated the '3 things' with the fact that Jesus received three gifts from each of the wise man.  We put the letter in the mail and once it was in route to Santa, it couldn't be changed.  One year Jacob wrote the letter and sealed it so I couldn't see it, he said it was a test to ensure 'we' weren't Santa.  Luckily he has an older sister who was my sweet elf with the big ears that year.
Once you know what 'THE' gifts are – buy them ASAP!  As a family caregiver, I think we are all required to have Amazon Prime.  Order the must haves and have them shipped to your door.  Consider paying the few extra bucks to have it gift-wrapped.
Talk with your siblings about how you want to handle gifts for each other's family.  I have siblings with kids and without kids.  We all want to minimize stress over the holidays and keep more money in our wallets so…we just talked openly about it several years back.  We agreed that unless you are physically with a family member, you don't need to buy a gift.  We honor this for birthdays as well.  For my husband's family, we usually buy one family gift like a cookie tower, popcorn tin, family game, or DVD.  These group gifts go right from the online store to the recipient wrapped and ready to be received.
Exchange names!  When my entire family lived in Atlanta and we all weren't children anymore, we opted to exchange names to help minimize the work for mom.  Some of the most fun years are when we exchanged names and stuffed a stocking for that person with a $100 budget.  This made Christmas morning more fun for my mom too since she didn't know what everything being unwrapped was.
Shop early, designate a gift wrapping station and wrap as you shop.  If you need some shopping ideas for either those looking to improve their health or the aging parent in your life, check out my Favorite Things page.  Or, add some of these items to your wishlist!
Have a white elephant gift exchange with your friends, co-workers, or family.  You can either wrap up something 'gently used' or set a budget for a new gift.  We've had white elephant parties with my family (especially when there are lots of people traveling in town) where we all bought one $50 – $100 unisex gift.  I've done low budget ones at work where you wrap up something you already own.  You can do this type of swap with your book club and exchange books.  We even had a pre-teen party one year where the kids exchanged DVDs.  At the party, count the total gifts, number the slips of paper (i.e. so you have one for each gift), and ask everyone to draw a number.  Whoever drew #1 goes first and picks a present to unwrap.  Then, #2 goes and can either steal #1's unwrapped gift or pick a new one to unwrap.  Usually a gift can only be stolen 3 times and can't be stolen back by the person who just lost it.  Some play that #1 gets to go again at the end.  Just decide the rules up front before you play.
Maybe this year you do a local family activity or take a trip instead of the traditional holiday gifts.  I've written a few previous posts about this here and here.  This year our family holiday gift was a trip to Ireland.
Minimize and simplify the circle of people you buy gifts for.  Teacher gifts can be gift cards.  Neighbor and work gifts are optional.
If someone asks you to participate in a group gift, the answer is always 'Yes, that would be great!'
Give back to your community in place of gift buying.  Volunteer as a family or group at a soup kitchen, adopt a family, collect items for a local shelter or visit those who may be alone at an assisted living community.  Doing something for others will make you feel less stressed and more thankful for everything you have.
Holiday Wrapping
Invest in some wire ribbon.  I love the big rolls of silver and gold wire ribbon at Costco.  The beauty of wire ribbon is that you basically wrap it around the gift, cut the ribbon edge at an angle, and tie one knot or just a normal bow and it looks like a department store wrap job.
Schedule a 'wrapping night' with your spouse to assemble and wrap everything.  Remind your spouse of the importance of 'choreplay'.
Don't wrap the gifts from Santa.  Most of the sleigh pictures I've seen show the gifts poking out of his big bag unwrapped.  If you do decide to wrap Santa gifts, dedicate one roll of wrapping paper for each child (i.e. don't wrap mom and dad gifts or other gifts in that paper!).
Get your kids involved in wrapping your gifts for your spouse, grandparents, etc.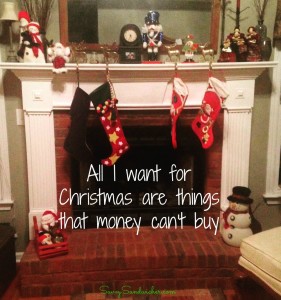 Holiday Meals
Ask your family what their one favorite food or treat is and incorporate those into the holiday plan.

If you are hosting, keep it simple by minimizing the variety of side items.  Remember you have goals for your waistline, too. 

Ask your kids to be in charge of setting the table and making it look beautiful.

Use shortcuts like Ore-Ida Steam n' Mash potatoes, bag salad kits you can doctor up, and Stove-top stuffing.  We truly like the canned jellied cranberry sauce better than homemade.  My dinners in recent years may not be as fancy as mom's were but a few years back I realized my family really didn't care if I made everything from scratch and would truly eat whatever I put in front of them.

Ask every adult attending to bring something.  Divvy out the side dishes, wine, salad, dessert, or appetizer.  I usually first ask what people want to bring.

Get an outdoor fryer and have your husband make the turkey.  The other bonus of this is that your oven is free to cook the side dishes.

Have some easy 'go to' appetizers on hand like cheese and crackers or hummus and veggies.

Consider using disposable plates and utensils instead of fine china and silver.  The time you would be spending on dishes (which by the way if you cooked, someone else should always clean up) is time you could be spending with your family sipping coffee, watching movies or playing board games.

Make items ahead and freeze if time allows.  Chop and prep any veggies ahead of time (or buy them pre-chopped!).

Send any leftovers that you know your family won't be eating home with your guests in disposable containers.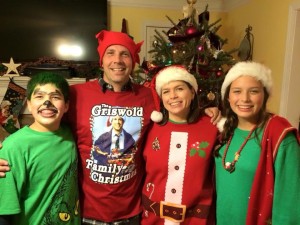 More Simple Holiday Ideas
Let go of the pressure to do holiday cards.  Maybe someday I'll pick up the photo card tradition again but for the last few years, this holiday ritual had to give.  I'm saving time and money.  I'm pretty sure that Facebook keeps people in the know who are curious what the Millers are up to.
Wine or chocolate makes a great easy hostess gift.
Participate in cookie swaps for variety or pick ones that you can bake early and freeze or just skip the cookie calories this year.
If you have lost someone important to you this year, remember them by reminiscing about the traditions they liked best or sharing a happy holiday story.
If you live in the Southeast, stay on track with your nutrition and save time shopping and prepping for your daily breakfast and lunches by ordering Fresh n Fit Cuisine meals.
If you are signing up for a potluck party for you or your family members, choose to bring one of the store bought items.
Read a small scripture verse or make a habit of finding one thing you are grateful for each day.  In essence, remember the reasons we are celebrating these seasons.
Go for a walk on holiday mornings listening to holiday tunes or talking with a family member or neighbor.  Start your day feeling energized and healthy!  Your to-do list will still be there 30 minutes to an hour later and you'll be better at executing it!
Many of the above suggestions came from my wonderful Happy Healthy Caregiver followers.  Which ones are you going to try this year?  If you have a tip that is missing, please add it to the comments below.  I hope that your holiday season is filled with special moments for you and your family, that you find your inner voice allowing you to ask for help from those around you, and that you take just a few minutes in each of the busy days ahead to take care of your own mental and physical health.