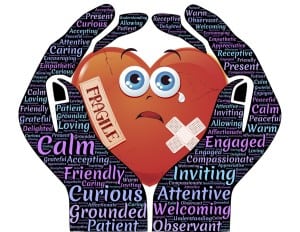 Earlier today, I thought I'd write a Throwback Thursday post and tell a great past story. But, then my day felt more like 'Throw up Thursday'. I already knew this….but today confirmed that I'm a creature of habit and I thrive in structure, I can get by on a day with little structure, but I really don't like a whole day of unexpected crazy.
Ever have one of those days that really felt like you were working hard but getting nowhere? Kids home from school due to pseudo snow day, workday delay, mish mash of work meetings, too many emails to answer, then a call from mom's assisted living about a rampant virus that has impacted over 40 people there…my mom was infected. I had just gotten to work, but of course wanted to check on mom. My mom is hard of hearing so she a regular phone call doesn't work…the best invention for communicating with mom is FaceTime.
But, in order to FaceTime, she has to see the call on her iPad.  Lately she hasn't been seeing my calls.  I had decided I would finish the afternoon workday and then check on mom.
Driving to mom's and walking in to her assisted living, I do a lot of self-talk. I never know what state I'm going to find her in. When she first moved in we often left each other in tears. I would want her to feel settled in and she would be frustrated with me for not understanding how hard life is for her. It's taken some time, about 6 months, for us to start to accept the situation and find our new normal.
Tonight when I walked in, I was greeted by a laundry basket of clean laundry, a couple Styrofoam meal containers on the counter, dishes in the sink, and mom dozing in her lift chair in a dimly lit room with an empty plastic bag hanging off her walker (in case more vomit comes). I knew she wasn't feeling well when the TV wasn't blaring Fox News. She was surprised to see me but I told her the Care Director called me earlier.
She told me about her crazy day and I listened. She started feeling sick last night and threw up several times, she had a huge bowel accident in the morning and couldn't get to the bathroom in time, the aide had other sick folks to tend to so helped clean up mom as best she could but had no time to assist with a shower. So, mom showered herself today! Luckily, she got in and out ok and this has given her false confidence that she is capable to shower herself in the future. But, she was irritated that the aide didn't leave her a towel.
Meals were not great since they were all be delivered to the rooms due to the quarantine. Her floor needed to be steam cleaned, she needs more Imodium. She doesn't like the extra pillows on the side of her bed but rather on the chair. She needs her 4x t-shirts and shorts pulled out so she can find them easily on days she can muster going to Sittercize. Even when mom feels well, it's a lot of complaining. It drove me crazy months ago but now I know that she is consumed with controlling her 500 square foot living space and when her space is tidy and she feels clean and her routine is good, life is good that day.
I did what I could do to make her place better…empty trashcans, wipe off switches and remotes against infection, wash dishes, clean out fridge, spruce up  her dinner, wipe bathroom floor, put laundry away, queue up the Netflix movie she fell asleep on earlier, fill up her sleep apnea machine, charge her phone and iPad, etc. By the time I get through the tasks…I'm exhausted and ready for some home time before starting a new day tomorrow. I offer to take her home with me for a few days until she feels better but she doesn't want to do that. She asks if I can stay and watch a movie. She's lonely and this breaks my heart that I can't pause my life to just be with mom. My explanation and decline comes with lots of guilt – but that's for a future post.
To end on a positive note, I'm grateful that she is feeling better, that my brother agreed to check on her tomorrow and bring some groceries, and that my kids are responsible teenagers and after getting my texts this afternoon, they prepared their dinners, took care of the dog, and got off to their team sport practices tonight.
Tomorrow is looking brighter…a no school snow day, a morning workout with my trainer, a productive workday, and a weekend on the horizon.