19 lessons learned in our 19 years of marriage
You may have missed this random fact that I have shared on my About page:  I married my 1989 prom date.  By choice – not necessity.  Jason and I started dating in my senior year of high school, he was a junior.  Our first date we dined at the Real Mandarin House (I'd hate to see what the fake restaurant looked like since years later rumor was the real one was shut down for serving up felines!).  After Chinese, we went to see a Tom Hanks bomb film called The Burbs.  We went to prom that spring.  I was in a Laura Ashley phase and picked out the fabric and pattern that my sister Susie handmade and Jason's tux was gray but looked lilac in the pictures.  Enjoy this 80's prom throwback! 
We dated long distance for several years…on and off.  I started at Penn State that summer and he finished his last year of high school and went to University of Alabama.  We were married on April 27, 1996 – 19 years ago!  The past few years, our pace of life has significantly picked up as our responsibilities to help care for our parents was added to our already full plates.  Our kids also have active lives which has resulted in a jammed packed family calendar. Our days often feel like we are on a moving treadmill that never stops until we crash into the pillows at night.  I know I'm guilty of getting caught up in the day to day routine and sometimes forgetting what's truly important.  This post is part of my anniversary gift to my husband.  After all, he's a guy and we all know what he really wants.  It's been fun to pause for a few moments and reflect on our relationship and I thought I'd share some of my thoughts, learnings, and insights after being married to Jason for the past 19 years.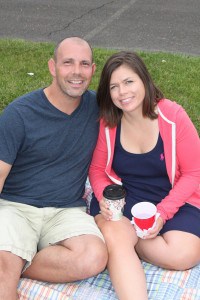 The lessons and learnings
1.      It turns out that I can still sleep well even when my bed isn't made before I get in it and that toilet paper still functions even when it's resting on top of the previous empty cardboard roll. Sense of humor is vital to our marriage.
2.      Traveling as a couple or a family is so much fun but I appreciate how lucky I am to be so happy to return home after any trip.
3.      Sometimes Jason is right and I'm wrong and that's ok.  Shadow has been a sweet addition to our family home and is a visual example of unconditional love and an example of how father may know best.
4.      We are powerful duo when we work together in small projects and big life changes.  We are actually better at working together on huge life changing problems than the pesky annoying little ones.
5.      I've got the best built in accountability partner when it comes to health and fitness.  I stand up straighter with confidence knowing that he always has my back.  But I hate that he has a better metabolism!
6.      Jewish people can like commercialized Christmas more than Christians.  Marrying a Jewish man has perks like I always get to decide what we are going to do for Christmas and Easter.
7.      If I want to be in the know about his life, I have to pay attention to his phone conversations or ask very specific questions about his day.  Communication is a skill that will never be perfected.
8.      Romance is something you always have to work at but cheesy books like 50 Shades of Gray can help.  Men truly get sexier with age.
9.      Trigger words like 'always' and 'never' are called trigger words for a reason.
10.  Love is not just a gift to be received it has to be given as well.  Love is reciprocal.  When I make deposits in our romance bank, I get nice dividends.
11.  For me to be a great wife, I first need to be happy with myself.  Jason doesn't complete me…he enriches and compliments me!
12.  It's silly to expect him to read my mind and notice when I need help instead of asking for it.
13.  Sealing the deal before and after a girl's trip away makes it easier for him to let me go off on my own.
14.  Positive reinforcement of behavior works on husbands, too!  Have you read my Choreplay post?!
15.  Marriage is the ultimate commitment and promise and I'm thankful that he continues to choose this 'package'.
16.  The small unexpected fun moments can mean more than the huge expected ones.
17.  That we both can alternate being the teacher and the student.  Neither of us will ever be done learning new things about each other.
18.  We both need to be involved in the finances to keep ourselves in check.
19.  There is no place like home. I'm proud of the life we have built and continue to build and there is certainly no place that I'd rather be.
What lessons are you learning in your marriage?  How do you prioritize your relationship with your spouse?  Share what works for you in the comments below.