Can you feel the holiday hustle and bustle?
The busyness of the holidays can swallow us up and before we know it we find ourselves speedskating from task to task. Then, when we come up for air we find we are three days late in changing the wall calendar over to the new year.
Instead, my hope for all family caregivers is that we enjoy a few moments here and there to be merry & bright this holiday season.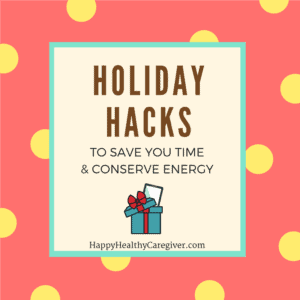 10 Time Saving & Energy Conserving Holiday Hacks
Here are ten holiday tips to help save us time and conserve our energy.
1.Order all or portions of 'the' holiday meal from a local caterer or grocery store. Publix and Whole Foods are two options. Or, perhaps just order pies from your favorite local bakery.
2.  For family gatherings over the holidays ask local family members to bring food items, drinks, snacks, appetizers or desserts.
3.  Who doesn't love the twinkle of outdoor lights on the house? A few years back my husband discovered a little wonderful laser that just stakes in the front yard and provides lots of holiday cheer. Since then, I've seen many upgraded versions with more patterns and colors like this one.
4.  Shop online and shop early. I am loving getting cash back from Ebates while shopping online at my favorite stores. Ebates also checks to see if there are any digital coupon codes to apply before checking out.
5.  While I love getting holiday cards (especially the family photo ones!), I have chosen not to send them out the past few years. This saves me a ton of time planning the card, ordering the card, addressing the envelopes and money on the cards and postage. Something just has to give. Here's an updated family photo and my personal message is: "Happy Holidays! May your season be merry & bright. – xoxo the Miller family"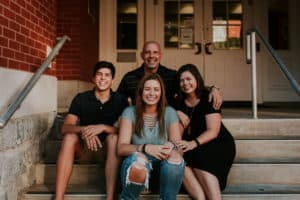 6. Draw names to share the gift buying and spread the joy. For the past few years, we've been drawing names among our family to see who shops for each others's gifts & stocking stuffers. We all have a set budget. What I really like about this is that everyone gets into the giving and I am surprised when everyone opens their presents on Christmas morning. We've also had years where we have done a 'White Elephant Gift Exchange' with extended family. Everyone brings one unisex nice gift for around $75 and we play the game. Rules can vary but here's one way to play: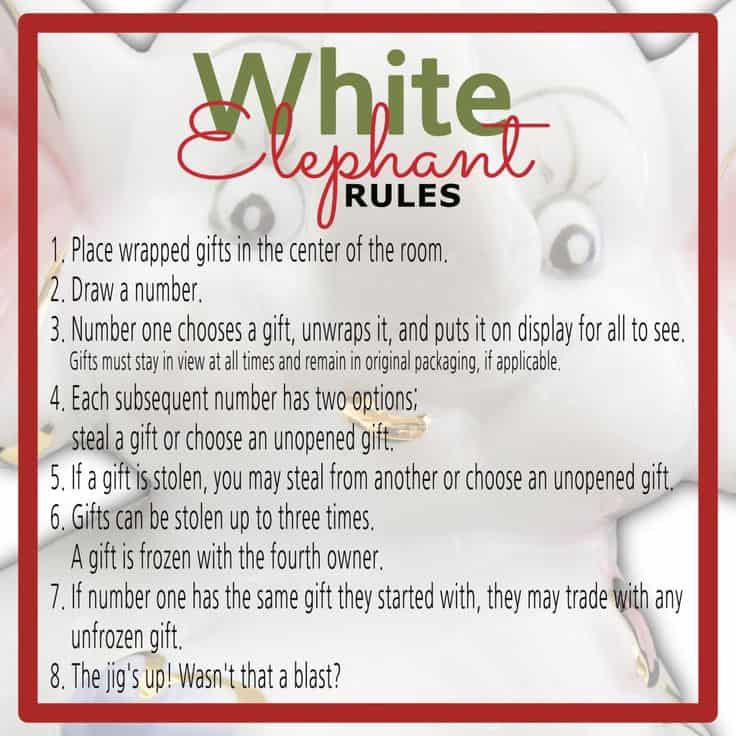 7.  Grab a few generic gifts when you are out and about for the unexpected holiday guest or hostess gift  you forgot to pick up. A couple extra bottles of wine, boxes of chocolate or bottles of lotion should do it.
8.  Instead of making cookies or candy for the neighbors or buying them presents, consider making a donation to a local charity and letting them know that you made it in their name.
9.  Make wrapping a family event. Turn up the holiday tunes (click here for my holiday playlist) and set the timer to get some help. Tip them a few bucks if you need to or take them out for Starbucks afterward.
10.  Go to the dollar store and purchase some festive holiday plates, napkins, and cutlery. Even if you want to break out the fine china for the main holiday meal this will help save time for all the other meals during the season.
I've been choosing to spend some of my holiday me-time in my cozy holiday pajamas watching the Hallmark Christmas movies. My daughter and I are addicted! They are so annoyingly perfect and predictable but yet so simple and sweet and definitely happy! When I asked Natalie why she likes these movies so much she said 'I just love love.' I just love love her response.
---
Listen the the Happy Healthy Caregiver podcast while you are running holiday errands. Click the images below to access the holiday episodes or click here for the full list of shows.